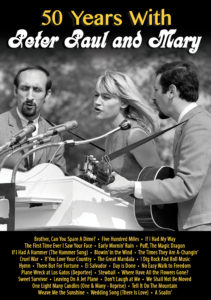 The Trio's Anthems Provided America's Soundtrack For Generations…
50 YEARS WITH PETER, PAUL AND MARY is a documentary by four-time Emmy Award-winning producer/ director Jim Brown and features rare and previously unseen television footage including a BBC program from the early 1960s that embodies many of the trio's best performances and most popular songs. It was originally broadcast on PBS which upon release stated "celebrates the impact of the preeminent trio that brought folk music to America's mass audiences".
This dynamic film is rooted in Peter, Paul and Mary at the peak of their artistry, a time when this popular and influential trio dominated the Billboard music charts.
From the group's emergence in Greenwich Village, the hub of the Folk Music scene in New York, to the Civil Rights and Anti-War era of the 1960s, through the decades of their later advocacy and music, to Mary Travers' moving memorial, and finally to the present, where their legacy continues to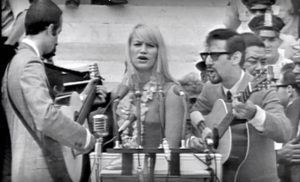 inform and inspire successive generations, this far deeper and more intimate exploration of the trio reveals the impact of their artistry and activism on their generation and the world. The film of course features Peter Yarrow, Noel Paul Stookey, Mary Travers.
They sang songs of substance. They wanted their actions to have impact to be worth doing. 50 YEARS WITH PETER, PAUL AND MARY features many of their songs along with insights into the powerful effect the trio and their music had.
Some of the songs / performances included:
"Leaving On A Jet Plane"
"Blowin' In The Wind"
"Puff, the Magic Dragon"
"Five Hundred Miles"
"Brother, Can You Spare A Dime?"
"If I Had My Way"
"The First Time Ever I Saw Your Face"
" There But For Fortune
"Early Mornin' Rain"
"Where Have All the Flowers Gone?"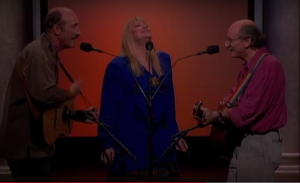 "50 Years reminds us that Peter, Paul and Mary at their best made music that carries timelessly over those too-fleeting years." – Huffington Post
"The period footage, often in full-length songs, is incredibly moving as the trio sings with a strength of sentiment rarely seen on today's national stages… Those wishing to see PP&M's intense earnestness in the context of their times will be greatly moved by this film." – No Depression
78 minutes on 1 disc / Color & B&W / 2014
HOW TO ORDER:
Public Performance and Digital Site Licenses are available through Soundview Media Partners. To inquire or to place an order, write to info@soundviewmediapartners.com or simply choose from the options below:
For group screening prices, please inquire.
In-home/personal use copies are available on Amazon: http://amzn.to/2syV8ZO
Watch the trailer