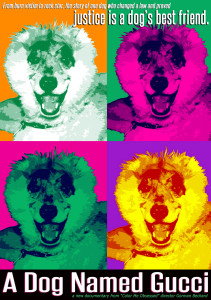 From burn victim to rock star, the story of one dog who changed a law and proved justice is a dog's best friend.
From survivor to rock star, A Dog Named Gucci is the story of a puppy set on fire and the brave man who came to his rescue. But for Doug James saving Gucci was just the beginning. Together they would forge a forever bond of devotion and perseverance and work to change the non-existent animal cruelty laws in their home state, proving that justice is a dog's best friend.
Director Gorman Bechard was awarded the ASPCA's National Media Excellence Award at their Humane Award ceremony in November 2015 for his work on A Dog Named Gucci.
Press:
"A Dog Named Gucci' left many in tears with its poignant story. But to the filmmaker's credit, it was far from manipulating. Director Gorman Bechard was also one that was more interested in an awareness campaign rather than taking the easy route of inflammatory cinema. The 'Gucci Bill' changed the laws in Alabama turning animal cruelty into a felony, and starting a wondrous domino effect throughout the nation." – The Movie Guys
"This film couldn't be more timely" – AZFamily (Phoenix)
Bonus Material: 2 hours of DVD extras: Gucci memorabilia, candid conversation with the film's director, info from a North Carolina prosecutor on how YOU can make a difference, and more.
Track listing: Norah Jones, Aimee Mann, Susanna Hoffs, Lydia Loveless, Neko Case, Kathryn Calder, Brian May (of Queen) and a string quartet from the Yale Symphony Orchestra – One Voice
84 minutes on 1 disc + bonus
HOW TO ORDER:
Public Performance and Digital Site Licenses are available exclusively through Soundview Media Partners. To inquire or to place an order, write to info@soundviewmediapartners.com.
For group screening prices, please inquire.
In-home/personal use copies are available on Amazon: http://amzn.to/1K3bBcb
WATCH THE TRAILER