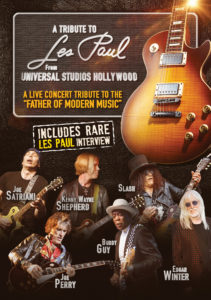 On the backdrop of a live concert tribute to the "godfather of the electric guitar", Les Paul, this hybrid biographic expose and concert film features some of the world's best guitarists along with a look at the impact of the man who changed music forever, the man who 'chased sound' through invention, performance and ingenuity.
Additionally, A TRIBUTE TO LES PAUL LIVE  features rare commentary taken from Paul's final interviews before his death, recorded at New York's landmark Iridium jazz venue, as well as at Paul's home in Mahwah, New Jersey.
Appropriately recorded at The Gibson Amphitheatre in Los Angeles, Some of music's biggest names came together to honor the iconic Les Paul. The night was headlined by show-stopping numbers from an all-star slate of his disciples with Slash and Edgar Winter teaming up on the Stevie Wonder staple "Superstition;" Toto axeman Steve Lukather's performing his rendition of Jimi Hendrix' "Little Wing;" and Joe Perry and Buddy Guy closing the night with a soulful blues set. Other highlights include spirited performances by Joe Satriani, Kenny Wayne Shepherd, Neil Schon, and more.
"We must all own up that without Les Paul, generations of flash little punks like us would be in jail or cleaning toilets." – Keith Richards of The Rolling Stones
"He is one of those rare figures, maybe the only one, whose fingerprints can be found in nearly every aspect of the way that music has been played, produced and listened to over the past half century of recorded sound." – Pat Metheny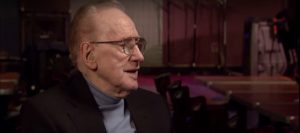 The special event was held to raise funds and awareness for the South Central charity A Place Called Home, designed to give at-risk youth a safe and secure environment they can thrive in.
The film is the result of an all star production team. Directed by Evan Haiman (Rock & Roll Road Trip w/ Sammy Hagar). Produced By – Charles Carlini (Les Paul's 90th Birthday Concert at Carnegie Hall), Bob Cutarella (Les Paul & Friends), digital wizard and analog alchemist Howard Lipp, and Glenn Aveni (American Masters' Les Paul Chasing Sound).
Michael Braunstein, Executive Director of the Les Paul Foundation stated – "It is without a doubt that Les Paul is the 'Father of Modern Music' and that musicians from every corner of the globe and in every genre of music stand upon his shoulders. He was an inventor, an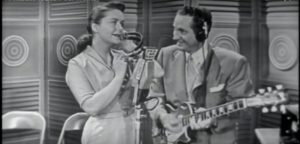 award-winning musician, and an innovator of the recording industry. The artists and producers who have made this tribute program possible give us every reason to remember that Les Paul was a man who influenced our music industry profoundly. I am thrilled that viewers worldwide will witness Les' greatest attributes through the performances and storytelling of this program."
Tracks/performances include:
Superstition (Slash, Steve Lukather, Edgar Winter)
Little Wing (Steve Lukather)
Watch Boogie (Joe Satriani)
House Full Of Bullets (Joe Satriani)
Going Down Slow (Joe Perry, Buddy Guy)
Hooch Koochie Man (Joe Perry, Buddy Guy)
Lovin' Cup (Robben Ford)
I Wanna Know You (Neal Schon, Shayna Steele)
Rock & Roll Hoochie Koo (Kenny Wayne Shepherd, Steve Lukather, Edgar Winter)
93 minutes on 1 disc/ color / 2017
HOW TO ORDER:
Public Performance and Digital Site Licenses are available through Soundview Media Partners. To inquire or to place an order, write to info@soundviewmediapartners.com or simply choose from the options below:
For group screening prices, please inquire.
In-home/personal use copies are available on Amazon: http://amzn.to/2wdp24b
Watch the trailer

Soundview offers a fantastic collection of music documentaries that you may want to also explore. Included among them are:
We invite you to explore our entire Music and the Arts Collection