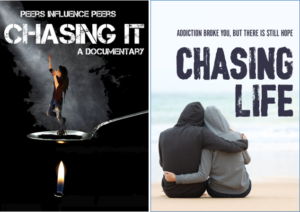 Soundview's "Addiction-Recovery Collection" consists of two sequential films produced by Peers Influence Peers Partnership funded in part by New York State.
When purchased together, you can save 25% off the license prices if purchased individually. The discount applies to the purchase of the DVDs with PPR or any of the digital site licenses listed below.
In 2014, the Partnership produced and released CHASING IT, the multi-award winning film that takes a hard and emotional look at the effects of opiate abuse on teens, their families and friends. It is designed to open the doors of communications and discussion to encourage those in need of support and help to seek it. It is designed to wake up the most powerful force we have…US!
In 2017, the Partnership followed up with CHASING LIFE, the Telly Award winning sequel. With a focus on recovery from addiction, the film highlights new and unique resources available for those who have been caught in America's widespread drug crisis.
Designed to be viewed by teens, 20-somethings, parents, educators and therapists alike, both of these films employ a strategic methodology of 'watch it together' in the hopes of developing open dialogue among all.
To read more in-depth information about each of the films in this collection and to watch their respective trailers, click the hyperlinks above.
HOW TO ORDER THIS COLLECTION
Public Performance and Digital Site Licenses are available through Soundview Media Partners. To inquire or to place an order, write to info@soundviewmediapartners.com or simply choose from the options below:
For group screening prices, please inquire.