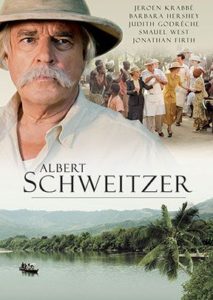 To those who had nothing, he brought hope… To those who had everything, he was a shining example…
From the Producers of Luther comes the stunningly filmed biographical story of the man Life Magazine referred to as possibly the greatest man in the world.
For generations the name Albert Schweitzer (1875-1965) has been synonymous with hands-on compassion and the power of sacrifice. Now director Gavin Miller presents a landmark drama about the legendary medical missionary and Nobel Peace Prize Laureate.
The year is 1949, the Cold War has begun and a climate of fear pervades. Christian medical missionary and theologian Albert Schweitzer (Jeroen Krabbé) is regarded as one of the world's most eminent humanitarians due to his life saving work in Africa. But when Schweitzer takes a controversial political stand, powerful adversaries launch a smear campaign designed to discredit and silence him. His enemies sabotage his medical clinic endangering the patients and threatening to put an end to the work.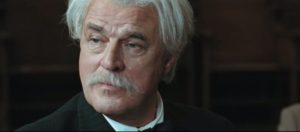 Shot entirely in South Africa and in just under two months, the film offers up a fantastic cast that includes Jeroen Krabbe (The Fugitive), Golden Globe and Emmy Award-winning actress Barbara Hershey, Judith Godreche (The Man in the Iron Mask), Samuel West (Howard's End), and Jonathan Firth (Luther)
NOTE: Barbara Hershey won the Palme d'Or at Cannes for her role as the doctor's selfless wife.
"In addition to the drama tied to the CIA, the film chronicles Schweitzer's work to save his hospital, mediate conflicts among co-workers, deal with tribal superstitions, and stave off efforts by government officials to take over his operations. Handsomely filmed, this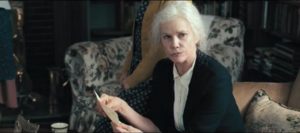 entertaining and informative biographical portrait is recommended." – Video Librarian
"Millar has captivated the audience with this film, which depicts a chapter of political history of the 20th century. Avoiding the pitfalls of the biopic genre, the film refrains from squeezing all aspects of the life of the German-French philosopher, musicologist, organist, theologian and physician Albert Schweitzer into a cinematic puzzle. British director Gavin Millar focuses instead on a few crucial years of Schweitzer's life: the period from 1949 to 1954, the year in which he received the Nobel Peace Prize for his philosophy of the "reverence for life." – DW Akademie
A Film by Gavin Millar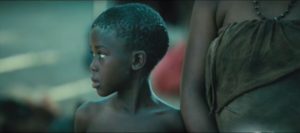 114 minutes on 1 disc / Widescreen / English w/ optional English subtitles / 2009
HOW TO ORDER:
Public Performance and Digital Site Licenses are available through Soundview Media Partners. To inquire or to place an order, write to info@soundviewmediapartners.com or simply choose from the options below:
For group screening prices, please inquire.
In-home/personal use copies are available on Amazon: http://amzn.to/2eHkwGT
WATCH THE TRAILER