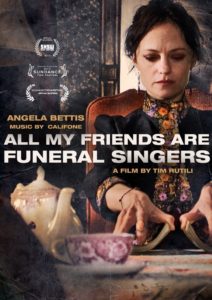 "You must embrace the avante garde. It [All My Friends are Funeral Singers] certainly embodies art house. It's the kind of film that bears repeat viewings" – StarkInsider
Starring Angela Bettis (Girl Interrupted, Carrie, May) as Zel.
Zel is a fortune teller. She works out of her century-old house removing clients' aches and pains, advising gamblers, and channeling cranky spirits for a quick check in with their loved ones. Zel is very good at her chosen profession, but also receives some unique assistance.
For as long as she can remember she has shared her home with a group of ghosts — a priest, a bride, a mute child, some washed up vaudevillians and a noisy, sight-impaired group of musicians, all who pass on incredible knowledge and abilities from beyond the world of the living.
WATCH THE TRAILER