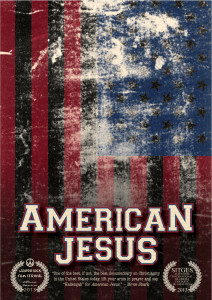 AMERICAN JESUS is a vivid mosaic of personalities and conflicting points of view that emerges as a portrait of an America yearning for solace and meaning in the modern world.
The film is an exploration of Christianity in every faction of American life, from the bread line to the yoga studio, from the humble churches of snake handlers to the mega churches of the ex-urbs. Christian cowboys, bikers and musicians, comedians, surfers and cage-fighters, they are all doing it for Christ.
WHAT THE CRITICS ARE SAYING…
"One of the best, if not, the best documentary on Christianity in the United States today, lift your arms in prayer and say "Hallelujah" for American Jesus." – Movie Shark
"Actor Larry Fessenden co-produced this fascinating look at peculiar mutations and iterations of Christianity in the modern United States… a thought-provoking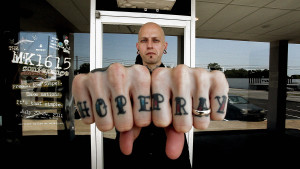 documentary. Recommended." –  Video Librarian
"American Jesus is an important documentary that will redefine how the world looks at
America and how we Americans look at ourselves… with a level of intuitive intelligence I've never seen before in a film on religion." – Huffington Post

"Many filmmakers have taken the time to highlight some of the more peculiar aspects of our nation's relationship with religion, but few – if any – have taken the time to weave as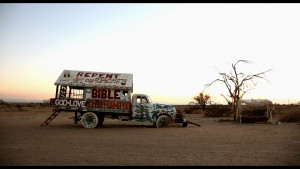 complete and diverse a picture of what it means to have faith in America as Aram Garriga's American Jesus."– Under the Gun Reviews
"
American Jesus" leaves no stone unturned, examining every aspect of Christianity, including pop culture, bikers, surfers, cowboys and each type of preacher. What emerges is an interesting portrait of religion in our country."– Pittsburgh Tribune-Review
78 minutes on 1 disc
HOW TO ORDER:
Public Performance and Digital Site Licenses are available through Soundview Media Partners. To inquire write to info@soundviewmediapartners.com or simply choose the license you seek from the standard options below.
For group screening prices, please inquire.
In-home/personal use copies are available on Amazon: http://amzn.to/1nao2Ei
 WATCH THE TRAILER