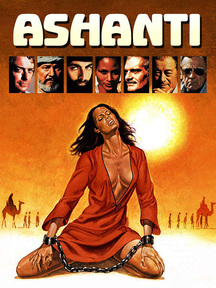 In 1979, Michael Caine, Peter Ustinov, Kabir Bedi, Beverly Johnson, Omar Sharif, Rex Harrison and William Holden came together with director Richard Fleischer to make Ashanti.
In Ashanti, Michael Caine stars as Dr. David Linderby, half of a married U.N. medical team vaccinating native villages in West Africa. When his wife is abducted by a depraved Arab slave trader, there's no time for diplomacy. With the help of a human-tracking activist, a cynical mercenary and a vengeful Bedouin, Linderby must pursue his wife's slavers 3,000 miles across the Sahara before she can be sold.
Letterboxd provides some background saying "Filmed in Israel, doubling for Africa, the production was troubled from the outset when the leading actress was fired within one week of shooting. Director, Richard Fleischer, however, was a professional and, in his second film tackling slavery (after the surprise hit Mandingo) was determined to create an international all-star cast action-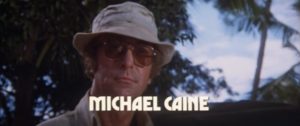 adventure, albeit with a lurid hook – slavery and sexual exploitation. This was not to be. When Fleischer sent his rushes to the studio for viewing the executives were aghast. Two-thirds into the production Fleischer was fired, though he retains the director's credit. Under such conditions, Ashanti failed to impress the critics and was much derided upon release. A tagline marketing campaign more akin to grindhouse exploitation – "an all-star action movie that deals with the ultimate sexual humiliation…slavery in the 1970s!!" – did nothing to win over the critics. With even Caine lamenting the movie, though popular enough, it remains a neglected curio from his prolific "turkey" period."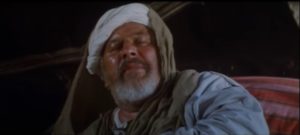 The plot develops and the cast comes to arms…
Caine is aided by an assortment of guest stars, beginning with activist Rex Harrison, who introduces him to a mercenarial helicopter pilot, William Holden. Meanwhile, Ustinov's caravan picks up additional slaves as it heads towards the Sahara, from where it would be impossible to track. Caine eventually finds guide Kabir Bedi, whose family was kidnapped by Ustinov and sold into slavery. Bedi agrees to help Caine on the condition he kills Ustinov. Ustinov allows one of his slaves, a young boy, to be taken in sodomy by one of his slavers while Caine's wife plans a means of escape, pitting her sexual allure against the boy's black magic. When such proves futile it seems that she will indeed be sold to an Arab prince unless Caine can find her.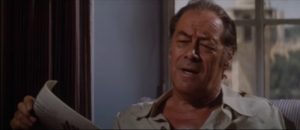 Letterboxd continues… "Fleischer initially reveals an ethnographic interest in African tribal traditions and the clash between Western and African cultures. Indeed, culture-clash dominates Fleischer's interpretation here – between the West and the Africans, between the Africans and the Arabs. Morality is what separates them in this assessment, the Arab Ustinov constantly risking becoming a caricature of the evil Arab slave trader. However, Ustinov's relish for the role results in a rich characterization of surprising individuality, his nonchalant monstrousness constantly contrasted to Caine's increasing frustration and rage over the lack of official assistance given the disappearance of his wife. Fleischer here gives vent to a black humour, as Ustinov refuses to pay extra for a young boy slave claiming that people have not gone up in price like petrol. So too, Fleischer stresses the complacent acceptance of sexual deviance and aberration by the slavers, with Ustinov's underling spending much of the film trying to persuade Ustinov to let him sodomize the young boy slave. Caine here is the bastion of morality, his conscience anchoring the film's sense of adversarial conflict. This however, makes for a simplistic good vs. evil scenario which, nevertheless, Ustinov's personal, even charmingly humorous slave trade characterization undercuts. Although the audience is meant to side with the determined Caine in stopping the evil slaver, Ustinov steals many of the scenes. Indeed, where Caine often looks like he's going through the motions, Ustinov truly embraces the role. That this dialectical portrait of decency and indecency perhaps more so than good and evil encompasses a strict racial division between WASP and Arab adds a racial (racist) allegory to the film."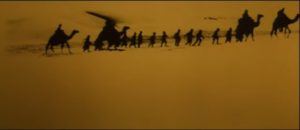 DVDTalk took a somewhat opposing (the original critics) view of the film saying
"Sometimes the critics get it dead wrong. Such was and is the case with Ashanti. Far better than its reputation would suggest, Ashanti is something of a find and due for a major reappraisal. Highly Recommended."
Ashanti is a film for debate on numerous levels relating to cinema history, culture class, production nightmares as well as a hard look at slavery and exploitation during the time frame.
Filmed in Panavision / 1979 / 118 minutes / Directed by Richard Fleischer / Produced by Georges-Alain Vuille, John C. Vuille.
HOW TO ORDER:
Public Performance and Digital Site Licenses are available through Soundview Media Partners. To inquire or to place an order, write to info@soundviewmediapartners.com or simply choose from the options below:
For group screening prices, please inquire.
In-home/personal use copies are available on Amazon: https://amzn.to/2Qgez2g
WATCH THE TRAILER