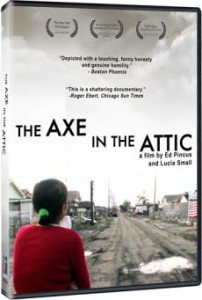 The Axe in the Attic focuses on the aftermath of Hurricane Katrina when two filmmakers, drawn together by outrage, take a sixty-day roadtrip from New England to New Orleans. Along the way they meet evacuees and witness the loss, dignity, perseverance, and humor of people who have become exiles in their own country.
The breakdown of trust between a government and its citizens, the influence of race, class, and gender – as well as the ethics of documentary filmmaking itself – form the backdrop for this universal story of the search for home.
After world premiering to uniform acclaim at 2007's New York Film Festival, the film has gone on to garner stellar reviews and impassioned reactions, with Cinema Scope's Livia Bloom declaring it "one of the most challenging and unsettling American films of the year."
3 stars – "This is a shattering documentary." – Roger Ebert, The Chicago Sun-Times
3 out of 4 stars – "The film is about rediscovering our common humanity – pushing through the flat screen of TV footage to connect with the Katrina victims as individuals." – Ty Burr, The Boston Globe
"…serves as a much-needed reminder that the restoration of New Orleans and the devastated Gulf Coast communities has been woefully inept. Recommended" – Video Librarian
OFFICIAL SELECTION
    Atlanta Film Festival (Atlanta, United States)
    Cinema du Reel (Paris)
    Green Mountain Film Festival (Vermont)
    Provincetown International Film Festival
    Torino Film Festival (Italy)
    Full Frame Documentary Film Festival (Durham)
    Human Rights Watch International Film Festival (New York City)
    New York Film Festival (New York City)
Directed by Lucia Small, Ed Pincus
110 minutes on 1 disc
HOW TO ORDER:
Public Performance and Digital Site Licenses are available through Soundview Media Partners. To inquire or to place an order, write to info@soundviewmediapartners.com or simply choose from the options below:
For group screening prices, please inquire.
In-home/personal use copies are available on Amazon: http://amzn.to/28hR5NC
Watch the trailer