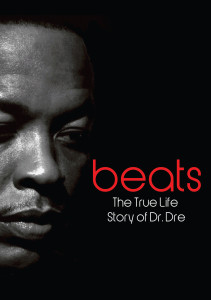 Andre Romelle Young began his career selling mixed tapes out of his 2nd floor bedroom window in Compton California. Customers would page him then wait until a plastic bucket was lowered for them to put $5 into. The bucket would return with a mix tape inside. It was crude but effective for the beat master who's sound would change the face of West Coast Rap.
Today Dr. Dre is a legend who's beats were so dynamic a line of head phones under his name and  trademark are the must have item for any DJ serious about their craft.
In this film you will meet the former Compton native who's creativity has inspired a generation and set a new standard in audio sound.
60 minutes on 1 disc
HOW TO ORDER:
Public Performance and Digital Site Licenses are available through Soundview Media Partners. To inquire or to place an order, write to info@soundviewmediapartners.com or simply choose from the options below:
For group screening prices, please inquire.
In-home/personal use copies are available on Amazon: http://amzn.to/2gT6DVZ
WATCH THE TEASER