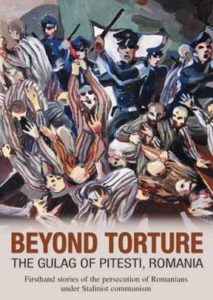 "When you said, 'I still believe in God,' in five minutes you were full of blood." – Roman Braga
"Many of us died, many of us became mad, but in some of us the good triumphed." – George Calciu
These chilling words from two survivors of a brainwashing prison in Pitesti, Romania are sad reminders of the legacy of Stalinist communism.
Beyond Torture: The Gulag of Pitesti, Romania documents the persecution of Romanians under the communist regime. Electrical shock, hallucinogenic drugs, near starvation and fatal beatings were daily rituals in the prison of Pitesti, Romania. But this sadistic story goes beyond torture: this was an attempt to totally destroy a people's culture and faith.
In 1949, Stalinist Soviets began a systematic sweep of Romanian college campuses. Their purpose was to imprison and transform young Romanians into a communistic way of thinking. One prisoner describes this re-education as the most vile tortures imaginable. Orthodox priest Father George Calciu says, They tried to destroy our souls. But he and others survived this gulag, lived to tell their stories and even forgave their captors.
In this documentary, you'll meet three survivors from the prison of Pitesti and see shocking paintings that capture the essence of the extreme torture. This DVD also includes an in-depth one-hour interview with Father Roman Braga: prison survivor and spiritual leader.
Outside of Romania, this film is the first major historical documentation of the Pitesti experience.
"From 1949-52 a horrific experiment was carried out by the Stalinist regime in Romania, as students, priests, intellectuals, and peasants were rounded up and sent to a gulag in the city of Pitesti in order to be brainwashed into embracing communism. In Alan Hartwick's Beyond Torture three survivors (Nicu Ionita, Father Roman Braga, and Father George Calcui) recount the unrelenting physical and mental torture inflicted on them by their captors (and sometimes by fellow prisoners promised early release for their cooperation). Cut off from family and faith, the survivors say the Stalinists were intent on destroying their individual values — through a method called "unmasking" — in order to create a communist personality. In addition to the debilitating physical torture (which included constant beatings, being forced to sleep in fixed positions, and various humiliating activities), a barrage of mental torture was employed, as members of the Orthodox faith were forced to substitute profanities for holy words while reciting the liturgy, and use human feces as hosts for Holy Communion. The terrible memories of the former prisoners are here augmented by the work of Romanian artist Sorin Feraru, who paints gaunt, hollow-eyed figures being subjected to horrors unimaginable to most of us. Displaying remarkable grace here, the survivors say they have forgiven their tormentors. Highly recommended." – Video Librarian
"The topic is not pleasant, and as the DVD states, is not recommended for children. I believe that the documentary, which is the first historical documentation of Pitesti outside Romania, is appropriate for academic libraries." – The Christian Librarian
35 minutes on 1 disc / 2007 / DVD extras include an hour-long uncut interview with Braga
HOW TO ORDER:
Public Performance and Digital Site Licenses are available through Soundview Media Partners. To inquire or to place an order, write to info@soundviewmediapartners.com or simply choose from the options below:
For group screening prices, please inquire.
In-home/personal use copies are available on Amazon: http://amzn.to/2rzFeto
Watch a segment