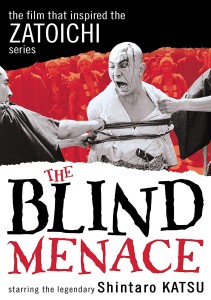 The film that inspired the legendary Zatoichi Series.
Before he portrayed the legendary blind swordsman, Zatoichi, Shintaro KATSU played Suganoichi, a blind court masseur with a dark side. An outcast since birth, he learned from a young age that the only way to get ahead was to take advantage of others. Now an expert con-artist with a heart of coal, Suganoichi is on a vile quest for power, and everyone else will suffer along the way!
"…a flawless enhanced transfer of this B&W Daiei release" – DVD Talk
"It's a testament to Katsu's acting ability that he effortlessly pulls off not only the mannerisms of a blind person, but that he can make such a handicapped individual so reprehensible. It's all the more jarring when comparing this dramatic feature with the blind masseur adventures Katsu would begin essaying two years later. If you ever wondered what an evil Zatoichi from an alternate universe would be like (without the sword fighting skills), this film will satisfy that curiosity." – Cool Ass Cinema (restricted)
"Blind Menace is a must see for Katsu fans or fans of Japanese cinema in general… a terrific character study with some incredible acting." – Inside Pulse
91 minutes on 1 disc
HOW TO ORDER:
Public Performance and Digital Site Licenses are available through Soundview Media Partners. To inquire or to place an order, write to info@soundviewmediapartners.com or simply choose from the options below:
For group screening prices, please inquire.
In-home/personal use copies are available on Amazon: http://amzn.to/2dSyXmS
WATCH THE TRAILER