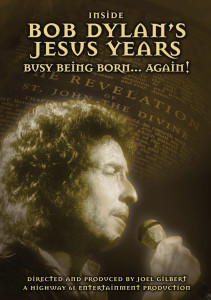 "Of all the intangible elements contributing to Bob Dylan's sustaining genius — prodigious recall of the breadth and depth of American song; a restless, creative spirit, and abiding intellectual curiosity — none has been more powerful than his ability to confound expectation" – Jewish Daily
Inside Bob Dylan's Jesus Years is an insiders view into Dylan's "Born Again" transformation with rare photos, unearthed interviews, and exclusive live concert footage from 1978-1981. Once called "Dylan's God Awful Gospel" by his most loyal fans, Bob Dylan's "Jesus Years" are today regarded as among the best of his career.
In late 1978, Bob Dylan fell into the Arms of the Lord through the Vineyard Christian Fellowship Church. In his first-ever interview, Dylan's Bible class teacher, Pastor Bill Dwyer, details Bob Dylan's embrace of Jesus Christ and Christianity. Dylan then made three Gospel albums, winning a Grammy for Gotta Serve Somebody. However, Dylan's radical new direction alienated fans and enraged critics as he preached evangelical messages from the Book of Revelation.
Director/Producer Joel Gilbert weaves the story of Bob Dylan's Jesus Years through revealing insider interviews, including legendary Slow Train Coming producer Jerry Wexler, background singer Regina McCrary, keyboardist Spooner Oldham, iconic San Francisco Chronicle rock reporter Joel Selvin, award-winning songwriter Al Kasha, and Dylanologist AJ Weberman.
Included are rare photos and exclusive live concert footage from 1978-1981, while Bob Dylan himself explains the impact of Jesus on his life and art in a recently unearthed interview from 1981. Visits to the Muscle Shoals Sound Studio, the Vineyard Church, and the Fox Warfield Theatre all help tell the intimate tale of Bob Dylan's Jesus Years.
"Democratic strategists have racked their brains for a plausible message to attract religious conservatives. Someone should put filmmaker Joel Gilbert's "Inside Bob Dylan's Jesus Years: Busy Being Born Again!" in their hands." – Washington Times
"A remarkable, well-made documentary beautifully shot and edited" – Blues Matters
"Gilbert's film is useful for Dylanologists still trying to answer Cohen's question about what happened to Dylan's complex, compelling religious commentary during this phase, particularly when some of his deepest spiritual messages would re-emerge in the late '80's" – Stephen Hazan Arnoff (writer and teacher and the executive director of the 14th Street Y of The Educational Alliance, a Jewish community center in Manhattan's East Village.
120 minutes on 1 disc + bonus material including
Photo Gallery 1978-1981 / Bob Dylan 1978 World Tour/ Dylan and 'Hurricane' Carter Together in Prison 1976 / Includes Full Soundtrack MP3s
HOW TO ORDER:
Public Performance and Digital Site Licenses are available exclusively through Soundview Media Partners. To inquire or to place an order, write to info@soundviewmediapartners.com or simply choose from the License Options below:
For group screening prices, please inquire.
In-home/personal use copies are available on Amazon: http://amzn.to/1PwSzd6
WATCH THE TRAILER