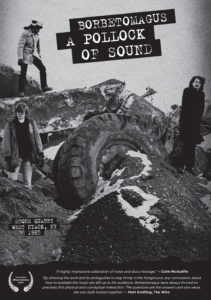 " … balls on the line improvisation with enough energy to flatten buildings."– Byron Coley, FORCED EXPOSURE Magazine
"Even on film, Borbetomagus will melt your face!" —Stewart Smith, The Quietus
A Pollock of Sound is the first feature-length documentary about the legendary improv / noise group Borbetomagus.
Filmmaker Jef Mertens brings a raw, urgent, and unpolished vision focusing on a band that has spent almost four decades defining and redefining not just their music, but the boundaries of music itself.
Band members Don Dietrich, Donald Miller, and Jim Sauter tell their story with the help of artists, writers, photographers, and filmmakers that include noted critic Byron Coley, drummer Chris Corsano, guitarist Thurston Moore, groundbreaking Japanese noise unit Hijokaidan, and Switzerland's masters of "cracked electronics," Voice Crack. Includes never-before-seen archival footage, amazing photographic finds, and previously unreleased recordings.
Borbetomagus formed in 1979 when saxophone players Jim Sauter and Don Dietrich joined with electric guitarist Donald Miller. Bass guitarist Adam Nodelman was briefly a member, and they have occasionally collaborated with others. Their aggressive music has been described as a huge, overpowering, take-no-prisoners mass of sound.
"Their singularity of intent is palpable. The group drive furiously into the promise of freedom offered by improvised music to build their own unpredictable edifice. If there's a lesson to be drawn, it's that borbetomagus's focused, lateral expansion is an endlessly fertile plane in itself, regardless of the specifics of form. Mertens's film deftly navigates this idea without ever being overly prescriptive or sentimental. By allowing the work and its ambiguities to stay firmly in the foreground, any conclusions about how to evaluate the music are left up to the audience. Borbetomagus have always thrived on precisely this physical and conceptual interaction. The questions are the answers and vice versa, like two bells locked together." — Matt Krefting, The Wire
63 minutes on 1 disc / Color & B/W
Produced 2016 / A film by Jef Mertens.
The DVD version includes Borbetomagus live at Instants Chavires, Montreuil 2009. 45 minutes of exclusive footage.
HOW TO ORDER:
Public Performance and Digital Site Licenses are available through Soundview Media Partners. To inquire or to place an order, write to info@soundviewmediapartners.com or simply choose from the options below:
For group screening prices, please inquire.
In-home/personal use copies are available on Amazon: http://amzn.to/2sk5Ql3
WATCH THE TRAILER