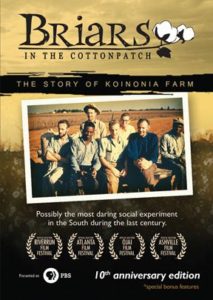 There was a simple farm in Southwest Georgia where racism and religion once collided.
Briars in the Cotton Patch tells the nearly forgotten story of Koinonia Farm, a small Christian community in Southwest Georgia where whites and blacks chose to live and work together as equals despite the brutal and frightening consequences.
Possibly the most daring social experiment in the South during the last century, Koinonia faced years of terror, boycotts, and intimidation in the years leading up to the tumultuous Civil Rights era.
Originally broadcast nationwide on PBS. Winner of an Emmy award for Best Script. Official Selection at Riverrun Film Festival, Atlanta Film Festival, Asheville Film Festival, Ojai Film Festival
Narrated by former Atlanta Mayor and Civil Rights veteran Andrew Young, this award-winning documentary examines the remarkable events that tested the moral boundaries of a community and planted the seeds for the global work of Habitat for Humanity, The Fuller Center for Housing, and Jubilee Partners.
DVD Bonus features: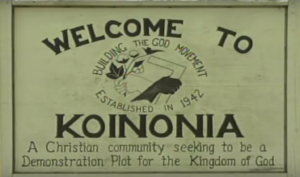 • Koinonia "Briars" Update
• Greg Wittkamper Reunion
• Briars Premiere
57 minutes on 1 disc / 2012 / Widescreen / a film by Faith Fuller
HOW TO ORDER:
Public Performance and Digital Site Licenses are available through Soundview Media Partners. To inquire or to place an order, write to info@soundviewmediapartners.com or simply choose from the options below:
For group screening prices, please inquire.
In-home/personal use copies are available on Amazon: http://amzn.to/2o957mj
WATCH THE TRAILER