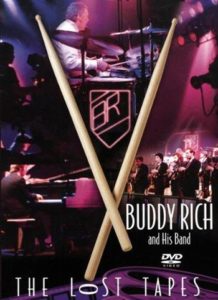 "Buddy Rich: The Lost Tapes" is an historic preservation and restoration project. The producers recovered the masters from a fire in 1990 and went about restoring the original surround sound track of the last concert Buddy Rich recorded before he passed away in 1987. This release follows the Emmy Award winning Channel One Suite and both concerts were recorded the same night.
"When the highlight of a concert video is a drum solo, that usually signals big trouble: but not when the stick-slinger in question is Buddy Rich. The Lost Tapes (so named because the masters were thought to have been destroyed in a fire; recovered in 1990, they were painstakingly restored for this release, with fine DTS and Dolby Digital stereo sound) finds him on the bandstand at age 67, playing brilliantly just two years after heart bypass surgery. DVD extras include brief commentaries by drummer Dave Weckl and various members of Rich's family, as well as a few words from the man himself. Recommended, overall." – Video Librarian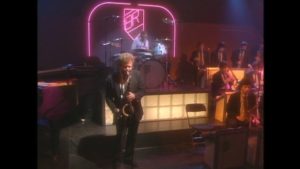 "The band is tight, anchored by the tenor sax of Steve Marcus, but the meat of a Rich set is the drum solo. Twelve of the DVD's 60 minutes are solos, and they demonstrate that Rich did not suffer any long, slow attrition of his chops as age took hold. Most impressive is the fantasia of cymbalism he unleashes on the "West Side Story" medley. The basic line Rich took in his solos did not change as he got older—it merely evolved, but his methods remain fascinating. Anyone who's seen the two-part documentary Buddy Rich: Jazz Legend knows what the man could do, and he could do everything in 1986 that he could in 1956. That is a whole lot!" – Pop Matters
"Video and audio quality are in fact quite good, as is the camera work, and the band—well, it's at the peak of its game, as was any ensemble led by the incomparable Buddy Rich (and it had better be—or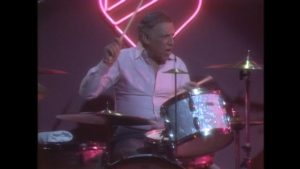 else!). Buddy, of course, is the dynamo that fuels the engine, but everyone else is up to the challenge in a concert that includes such demanding charts as Mexicali Nose, Willowcrest, The Red Snapper and Bill Reddie's superlative arrangement of the West Side Story medley that includes two of Buddy's breathtaking extended drum solos. Rounding out the program are Monk's Round Midnight, Ellington's Cotton Tail, Don Piestrup's New Blues and Mike Manieri's Tee Bag, the last performed by Buddy, pianist Bill Cunliffe and bassist Dave Carpenter." – All About Jazz
90 minutes on 1 disc / color / 1985
HOW TO ORDER:
Public Performance and Digital Site Licenses are available through Soundview Media Partners. To inquire or to place an order, write to info@soundviewmediapartners.com or simply choose from the options below:
For group screening prices, please inquire.
In-home/personal use copies are available on Amazon: http://amzn.to/2gAgFKu
WATCH THE TRAILER