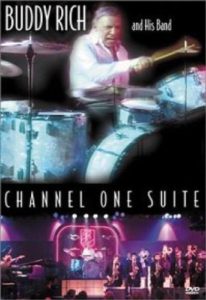 Directed by Scott Ross and produced by Gary Reber, recorded in 1985 (King Street Studios in San Francisco), this Emmy Award winning performance was Buddy Rich's last in-studio recording
"This DVD is a jazz collector's piece beyond compare and an archetypal big band jazz recording that will remain an important piece of our history and culture for eternity. Buddy Rich goes unrivaled as a jazz drummer and performer and this superb DVD, besides the vast catalog of recorded works he left behind, is one more gift to us all that lends credibility to the word legend." – Jazz Review
The musicians featured are:
Buddy Rich (Drums), Steve Marcus (Tenor Saxophone), Scott Bliege (Trombone); Bill Cunliffe (Piano), Paul Phillips (Trumpet), Mike Davis (Trombone), Eric Miyashiro (Trumpet), Jay Craig (Baritone Saxophone), Bob Bowlby (Alto Saxophone), Mark Pinto (Alto Saxophone).
The track listing is superb:
1. Machine
2. Best Coast
3. One O'Clock Jump
4. Sophisticated Lady
5. Norwegian Wood
6. Love For Sale
7. No Exit
8. Channel One Suite
"I remember the Great Unus of Ringling Brothers Circus placing a round glove on top of his upright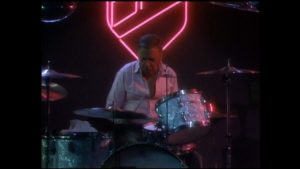 cane-then proceeding to balance himself by standing on his forefinger. Of course that's the answer-it can't be done. Like the Great Unus, is this some kind of magician's trick Mr. Rich is putting on us? – that we really don't hear or see what we think we do? I recall standing with Shelly Manne and Bobby Rosengarden at the Nice Jazz Festival in 1978. We stood to the right side of the bandstand so Shelly and Bobby could watch Buddy's right foot! Just his right foot! After the set, they looked at each other in disbelief. It was obviously an illusion they had seen. During a Rich engagement in Los Angeles some years ago, twenty-two drummers were in the audience. At the conclusion of the"Channel One Suite" half of them were openly crying. One should not try to explain the magician's trick-once you know the modus of operandi, the thrill is gone. So keep your secrets, Buddy Rich, and let the audience forever be amazed and in wonderment of your art. The Great Unus may have retired, but Traps, The Drum Wonder makes us all believers." – Johnny Carson
HOW TO ORDER: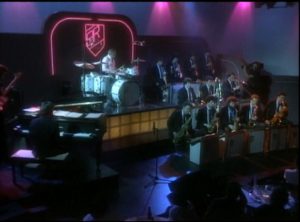 Public Performance and Digital Site Licenses are available through Soundview Media Partners. To inquire or to place an order, write to info@soundviewmediapartners.com or simply choose from the options below:
For group screening prices, please inquire.
In-home/personal use copies are available on Amazon: http://amzn.to/2vpXvzO
Watch the trailer