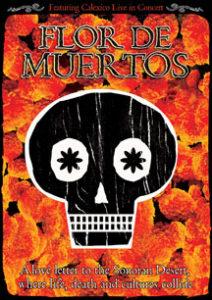 Flor De Muertos is a meditative and celebratory journey into the rich borderlands culture between Tucson, Arizona and the towns of Nogales, Arizona and Nogales, Mexico. Director and Tucaon native Danny Vinik evokes the power and beauty of the Sonoran Desert and its people in this poetic exploration of life and death along the US/Mexico border.
The film begins with the traditional Day of the Dead celebration in a Nogales, Mexico cemetery and ends with Tucson's 20th All Souls Procession – when 20,000 locals turn out in costume and skull face to honor and dance with their dead. The procession culminates in a spectacular finale by Flam Chen, the world-renowned pyrotechnics troupe known for death-defying aerial feats.
Part documentary and part concert film, Flor De Muertos features a stunning performance by acclaimed Americana band Calexico at Tucson's historic Rialto Theatre, as well as interviews with legendary journalist Charles Bowden, journalist Margaret Regan, and artist Salvador Duran. The result is a striking commentary on failed US immigration policies set to an evocative Calexico soundtrack.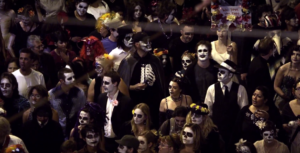 A love letter to the Sonoran region, Flor De Muertos will haunt your dreams.
"On a map, the border fence is as much of a barrier as death: You're either in the United States or you're in Mexico. You're either alive or you're dead. In reality, at least in the Sonoran Desert and Mexican and Mexican-American culture of that land, 'Flor de Muertos' shows us, both are blurred."  —Dan Sorenson, Arizona Daily Star
"A MUST SEE" – The Tucson Citizen
2011 / 87 minutes / Color / English language / A film by Danny Vinik
HOW TO ORDER:
Public Performance and Digital Site Licenses are available through Soundview Media Partners. To inquire or to place an order, write to info@soundviewmediapartners.com or simply choose from the options below:
For group screening prices, please inquire.
In-home/personal use copies are available on Amazon: http://amzn.to/2rCyNqf
WATCH THE TRAILER