Escape from Room 18 tells one of the most unpredictable true stories of transformation in our century.
John Daly received an e-mail from someone in his long-forgotten past.
Did it mean "they found him"? Was he being set up? Or… was he being "saved"?
Daly was a high-ranking officer in one of America's largest neo-Nazi skinhead organizations (Daytona Beach, Florida). He learned early on to turn his human emotions off and accept hatred and violence as his way of life.
They then learned he was a Jew and attempted to murder him.
A true story of redemption unlike any other, Escape from Room 18 brings the viewer on a transformative journey from within organized hate and violence to the embracing of a new life of compassion and public atonement.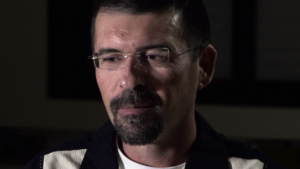 After the attempted murder, John fled to Israel for safety. Years later he received an e-mail from someone from his long-forgotten past; a fellow ex-skinhead.
Apparently on a mission to change his own life and make amends for his past, he invited John to meet him in Prague to discover and see firsthand the effects of what they both had preached and practiced. Suffering from PTSD and a brain tumor, John was reluctant at first.
Was this a new, clandestine attempt on his life or was this an invitation to salvation?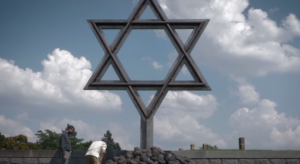 In fact, Kevin's invitation was an honest one.
Subsequently, Escape from Room 18 takes a twist that is so unpredictable, the film plays out as an unprecedented look at human transformation, redemption and salvation. It provides a glimpse into the lives of two men that serves as a profound statement for all to witness.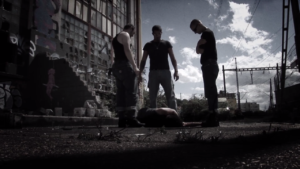 Featuring John Daly (as himself), Kevin Connell (as himself), Rafa Garcia (as the young John Daly), Alexander Kaminer (as Gleb Kaminer) and more, Escape from Room 18 combines both documentary and dramatic recreation in what TC JewFolk called the "Intense Reformation of a Jewish Nazi".
An Official Selection at
The Moscow Jewish Film Festival
The Twin Cities Jewish Film Festival
The Odessa Jewish Film Festival
and The Ekaterinburg Jewish Film Festival
2017 / 60 Minutes / Color / English Language / A film by Daniel Brea
HOW TO ORDER:
Public Performance and Digital Site Licenses are available through Soundview Media Partners. To inquire or to place an order, write to info@soundviewmediapartners.com or simply choose from the options below:
For group screening prices, please inquire.
In-home/personal use copies are available on Amazon: https://amzn.to/3omAGDU
WATCH THE TRAILER