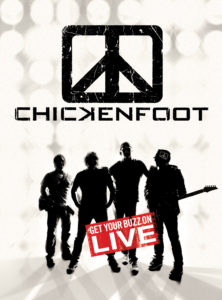 Four rock legends take to one stage for an incredible musical event. Experience a Chickenfoot concert live like you were there the night it was filmed.
Shot in HD with 16 cameras over 3 Sold-Out shows, "Chickenfoot – Get Your Buzz On" offers viewers a once-in-a-lifetime chance to see 4 Rock and Roll Legends share the stage and blow the fans away with their combined extraordinary talents. Chickenfoot is absolutely greater than the sum of it parts.
The band, formed in 2008 consists of Sammy Hagar (Van Halen and Montrose), Michael Anthony (Van Halen), Chad Smith (The Red Hot Chili Peppers) and Guitar Hero Joe Satriani.
Shot during the summer of 2009, the shows are captured in crystal clear High Definition by Award-Winning Director Daniel E. Catullo III (Rush, Creed Godsmack, Smashing Pumpkins) and mixed in DTS 5.1 Surround Sound by Mike Fraser.
The film includes one full show shot at the Dodge Theater in Phoenix, AZ, and segments from shows at the Tabernacle in Atlanta, GA and The Rock & Roll Hall Of Fame in Cleveland.
The bonus features are robust and include never-before-seen backstage footage, interviews with the band, extra performance footage, a photo gallery and not to be missed funny segments featuring "Surprise Special Guests" Adam Corolla, Bob Weir and Christopher Guest as "Nigel Tufnel" from the hit movie Spinal Tap.
Tracklisting:
1. Avenida Revolution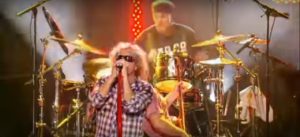 2. Sexy Little Thing
3. Soap On A Rope
4. My Kinda Girl
5. Down The Drain
6. Bitten By The Wolf
7. Oh Yeah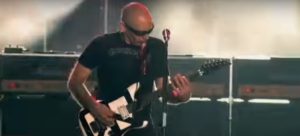 8. Learnin' To Fall
9. Get It Up
10. Immigrant Song
11. Turnin' Left
12. Future Is The Past
13. Bad Motor Scooter
14. My Generation
2009 / HD – DTS 5.1 / Color / A film by Daniel E. Catullo III, produced by Daniel E. Catullo III, Peter James Bowers, Brian Lisi, Matt King, Mark Gregoretti, Mick and Carter, Lionel Passmonte.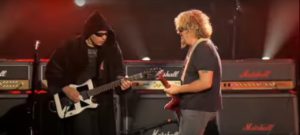 HOW TO ORDER:
Public Performance and Digital Site Licenses are available through Soundview Media Partners. To inquire or to place an order, write to info@soundviewmediapartners.com or simply choose from the options below:
For group screening prices, please inquire.
In-home/personal use copies are available on Amazon: https://amzn.to/2VyWaQr
WATCH THE TRAILER