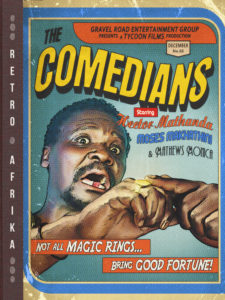 In this sixth installment of the Retro Afrika Collection, The Comedians tells the tale of a fortune-seeking hustler who seeks possession of a magic ring to make himself a wealthy man.
The ongoing Retro Afrika project is comprised of digitally-remastered classic Apartheid-era films, produced by and starring native South Africans. It pays homage to Hollywood action in groundbreaking B-movie style, a precursor to today's burgeoning Nollywood industry.
Fortune-seeking hustler Ace Bona borrows his reluctant friend's magic ring in the hopes to make himself a rich man only to find that his greed is uncontrollable. Obsessed with the idea of possessing the ring for himself, he hires a group of thugs to steal it from his friend. Meanwhile, his friend has a trick up his own sleeve. In a turn of events, it becomes apparent that "Not all magic rings bring good fortune".
Featuring Hector Mathanda, Moses Makhathini, and Matthews Monica
1980 / 87 Minutes / Color / Zulu w/English subtitles / A film by Japie van der Merwe (Ace of Spades, Joe Bullet)
HOW TO ORDER: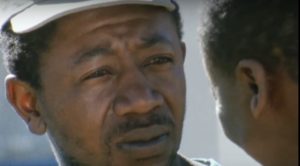 Public Performance and Digital Site Licenses are available through Soundview Media Partners. To inquire or to place an order, write to info@soundviewmediapartners.com or simply choose from the options below:
For group screening prices, please inquire.
In-home/personal use copies are available on Amazon: https://amzn.to/2s4t26f
Watch the trailer