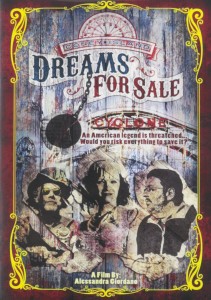 A roller coaster of political back-room deals pits resident activists against big-money real estate developers! In what may be the story of one town, the tale of towns across America is told.
Coney Island, the once magnificent 'Playground of the World' has survived many battles, but now faces its greatest enemy: corporate greed.
Coney Island: Dreams for Sale brings to light the complex political struggles that are happening in Coney Island behind closed doors. The New York City administration and Thor Equities, a major developer in the region, have a lot invested in the redevelopment of Coney Island. Unfortunately, their visions are in contrast with each other, and with those who have made a life working at the amusement park.
The plot thickens as a roller coaster of political back-room deals unfolds, and a community of amusement and business owners find themselves caught in the middle of it all. Center stage in the passionate struggle to protect the amusement park is Dianna Carlin, owner of the fabulous Lola Star Boutique, and newly turned political activist.
"The films antagonistic villain if you will, Joe Sitt of Thor Equities, shows his true nature fairly quickly and for most it should not be a surprise how major business is handled, especially in the metro counties of America; buy land, flip it, and do NOTHING!" – PBIFF
This modern day David and Goliath tale chronicles the courage and determination of a community to preserve the spirit and authenticity of a legendary American Icon and an entire way of life in the face of 'Big Money' and ruthless real estate development.
80 minutes on 1 disc
HOW TO ORDER:
Public Performance and Digital Site Licenses are available through Soundview Media Partners. To inquire or to place an order, write to info@soundviewmediapartners.com or select from the License Options listed below:
For group screening prices, please inquire.
In-home/personal use copies are available on Amazon: http://amzn.to/1SMKz6z
WATCH THE TRAILER