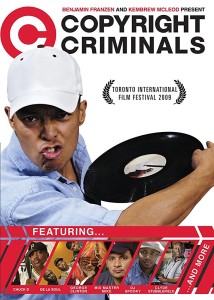 Originally broadcast on Independent Lens, this "PBS documentary can't be beat" – Newsday (May 2018)
Copyright Criminals examines the creative and commercial value of musical sampling, including the related debates over artistic expression, copyright law, and (of course) money.
"Copyright Criminals effectively informs its curious audience about the history of sampling, artfully conveys its aesthetic, and is smart about the issues at the heart of the story." – Pop Matters
The documentary traces the rise of hip-hop from the urban streets of New York to its current status as a multi-billion-dollar industry. For more than thirty years, innovative hip-hop performers and producers have been re-using portions of previously recorded music in new, otherwise original compositions. When lawyers and record companies got involved, what was once referred to as a "borrowed melody" became a "copyright infringement."
"As artists find more inventive ways to insert old influences into new material, COPYRIGHT CRIMINALS poses the question: Can you own a sound?" – PBS.org
"3 stars: Filmmakers Benjamin Franzen and Kembrew McLeod look at sample-based music from legal, moral, and artistic perspectives. Recommended" – Video Librarian
"Even if the relationship between makers and users has shifted irrevocably, some other issues are perennial, if more visible now. For one thing, the question of who owns what and who deserves compensation remains unresolved, if not downright iniquitous." – Pop Matters
"Documentarians Benjamin Franzen and Kembrew McLeod teach some welcome history in Copyright Criminals, talking to some key artists and considering the questions that have risen up around the art of sampling – like whether it's an "art" in the first place, or simply an overused and possibly even criminal crutch." – The Red Alert
DIRECTED BY – Benjamin Franzen
54 minutes on 1 disc
HOW TO ORDER:
Public Performance and Digital Site Licenses are available through Soundview Media Partners. To inquire or to place an order, write to info@soundviewmediapartners.com or simply choose from the options below:
For group screening prices, please inquire.
In-home/personal use copies are available on Amazon: http://amzn.to/2dxrPfE
WATCH THE TRAILER