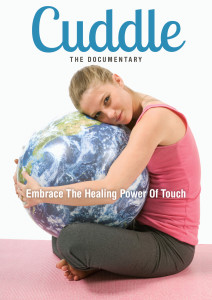 From award winning filmmaker Jason O'Brien comes a brand new documentary chronicling a unique and revolutionary movement taking place around the world.
For years, people have been getting together at cuddle parties, where non-sexual physical touch can be practiced and explored within a safe and innocent setting. In a couple of cities, and most recently, in Madison, Wisconsin, new businesses are opening and facing huge controversy to offer one-on-one snuggling sessions for paying customers … again, in a completely safe and non-sexual environment.
In each of these instances, the misconceptions and misunderstandings of others have caused controversy, and have sometimes made it difficult for people to see the benefits that these services and events can provide, and it ends up dealing so much with how we view touch in America and how the lines have blurred between compassion and sex. Can these movements succeed and allow others to see how finding ways to get back to our most basic human needs could actually be a positive step forward for our society? Or will these movements face too much misunderstanding and founder? This new documentary explores it all.
Jason first began by covering the return of the Cuddle Party movement in Birmingham, Alabama, interviewing facilitators Tracy and Bryan Gilliom, and a first time Cuddle Party attendee, Kate Donnelly, whose insights and anxiety about attending a cuddle party lend an interesting look into this event that has been around for a number of years.
Jason then traveled to Madison, Wisconsin, right in the midst of the huge controversy that erupted around the opening of The Snuggle House, a new business offering one-on-one snuggling services. Self made millionaire Matthew David Hurtado explained his desire to open this new business and the struggles he faced in the city from those who thought it was a front for prostitution.
Jason then traveled to Boulder, Colorado, where a man named Chris DeCicco was already operating a one-on-one snuggling business called "Be The Love You Are". Jason was granted unprecedented access, filming many one-on-one snuggling sessions and interviews with snugglers and clients.
It was then on to San Francisco to interview a man who founded "Cuddle Therapy" and a woman who helped co-found the Cuddle Party movement almost a decade ago.
67 minutes on 1 disc
HOW TO ORDER:
Public Performance and Digital Site Licenses are available exclusively through Soundview Media Partners. To inquire or to place an order, write to info@soundviewmediapartners.com or choose from the License Options listed below:
For group exhibition licensing, inquire to info@soundviewmediapartners.com.
In-home/personal use copies are available on Amazon: http://amzn.to/1LMykrf, Deep Discount and wherever fine videos are sold. 
WATCH THE TRAILER