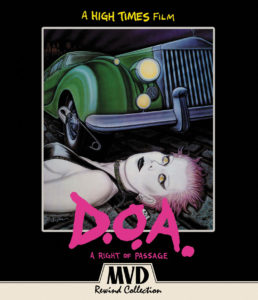 D.O.A.: A RIGHT OF PASSAGE is the ground-breaking classic documentary about the origin of punk rock.
A High Times film, DOA is "As much of a Woodstock as punk may ever inspire." – NY Times and the new HD remastered transfer provides a blistering edition of the film that has not been seen in decades.
Centered around the Sex Pistols 1978 tour of the United States, which ended with the group breaking up, the tour was the only one the Pistols played in the United States. Director Lech Kowalski (East of Paradise) followed the band with handheld 16mm cameras through the clubs and bars of their seven-city U.S. tour. Mixing this with footage of other contemporary bands, trends in the fashion capitals and punks of all shapes and colors, Kowalski captured a gritty, stained snapshot of the punk movement at its peak (which includes the now famous footage and interview of Sid Vicious and Nancy Spungen in bed) along with rare interview and concert footage of the late seventies punk rock music scene.
"D.O.A. is tough to beat for fiery energy and you-are-there immediacy. A pointed reminder that punk changed a lot of things—but it didn't change everything." – Notcoming.com
With live performances by the Sex Pistols, The Dead Boys, Generation X (with Billy Idol), The Rich Kids, the X-Ray Spex, and Sham 69, along with additional music from The Clash and Iggy Pop, this iconic documentary is now available for the first time ever on disc!
"D.O.A.'s the perfect punk movie, its production values the cinematic equivalent of the best punk records: raw, loud, crude, and basic." – Austin Chronicle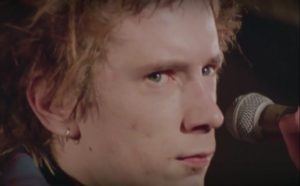 The special edition set includes both the high definition Bluray (1080p) and DVD discs, and the bonus material is extensive:
High Definition Blu-ray (1080p) and Standard Definition DVD presentation of the main feature
Original 2.0 Mono Audio (Uncompressed PCM on the Blu-ray)
A 12 page booklet with liner notes written by John Holmstrom, founding editor of PUNK Magazine
'Dead On Arrival: The Punk Documentary That Almost Never Was' – A feature length documentary about the making of D.O.A. A Rite of Passage produced by award-winning filmmaker (and former MTV Senior Producer) Richard Schenkman (HD)
Reversible artwork
2-Sided Poster included
Original Theatrical Trailer
Rare Sex Pistols photo gallery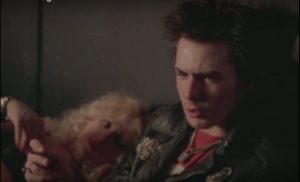 "D.O.A. features state-of-the-art performances… Still, it's the eerie Spungen-Vicious dialogue that will probably haunt most viewers." – Rolling Stone
"If you've managed to forget how ferociously powerful the Pistols' music was and still is, "D.O.A." is an excellent reminder" – Amos Lassen
Film run time is 90 minutes / Set includes 2 discs (DVD and Bluray) / Originally recorded in 1980 / Directed by Lech Kowalski
HOW TO ORDER:
Public Performance and Digital Site Licenses are available through Soundview Media Partners. To inquire or to place an order, write to info@soundviewmediapartners.com or simply choose from the options below:
For group screening prices, please inquire.
In-home/personal use copies are available on Amazon: http://amzn.to/2gR88Sg
WATCH THE TRAILER