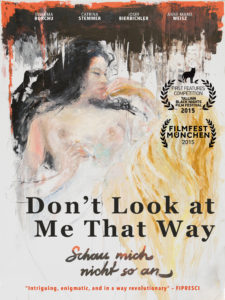 "Intriguing, enigmatic and in a way revolutionary" – Fipresci
Themes of femininity and identity come into view as a chaotic love drama foments between Iva, Hedi, and Iva's father.
Hedi is the new neighbor of Iva who raises her daughter Sophia by herself. The two women start a love relationship and Iva is desperately in love. Suddenly Iva's father appears, to whom Hedi feels strongly attached. It seems that only one world exists for Hedi: her own.
Themes of femininity, identity, sexuality, and adulthood all courageously collide in this German-Mongolian love drama.
"Resolutely abstract from its beginning, Uisenma Borchu's Don't Look at Me That Way is a compelling examination of female roles, the power of sexuality and alienation between cultures. Combining a naturalistic style with an ever-present air of the surreal…" – Cineuropa
"It's a dramatic story with strong performances, and while it won't be for everyone, cinephiles who like material that's a little more challenging may want to seek it out." – San Antonio Express News
Winner, Best Direction, Bavarian Film Award
Winner, Fipresci Prize, 

Munich Film Festival

Winner, International New Talent Competition, 

Taipei Film Festival

Nominated, Best Film, Tallinn Black Nights Film Festival
Nominated, Grand Prix Prize, 

Osaka Asian Film Festival
The film features a wonderful international cast including Director Uisenma Borchu (who also wrote the screenplay), the debut of Catrina Stemmer, Josef Bierbichler (The White Ribbon), Anne-Marie Weisz (The Garden) and Katja Brenner (Euphoria).
2015 / Drama / 88 minutes / German w/English sub-titles / A film by Uisenma Borchu (Asphaltgorillas)
HOW TO ORDER: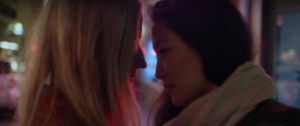 Public Performance and Digital Site Licenses are available through Soundview Media Partners. To inquire or to place an order, write to info@soundviewmediapartners.com or simply choose from the options below:
For group screening prices, please inquire.
In-home/personal use copies are available on Amazon: https://amzn.to/2EYgpQI
WATCH THE TRAILER