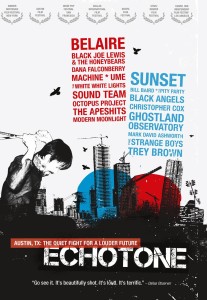 "This film has been designated as a Critics' Pick. The realities in Nathan Christ's impressive documentary "Echotone" are, sadly, nothing new. But the emotions surrounding them are nevertheless compelling. "Echotone" is about Austin, Texas, and what happens when a city becomes too hip for its own good. " – New York Times
Internationally known as 'The Live Music Capital of the World,' Austin's music culture has led it to become one of the world's most sought-after destinations. As nearly two dozen high-rises pop up throughout the city amidst economic downfall, how does the working musician get along?
This lyrical documentary provides a telescopic view into the lives of Austin's vibrant young musicians as they grapple with questions of artistic integrity, commercialism, experimentation, and the future of their beloved city.
Directed by Nathan Christ and photographed by Robert Garza, the New York Times Critics' Pick and one of Paste Magazine's Top Documentaries of 2011, Echotone, is a cultural portrait of the modern American city examined through the lyrics and lens of its creative class.
"Rarely has the divide between artistic conviction and commercial ambition been as beautifully and artfully portrayed as in this picture" – Hollywood Chicago
"The film doesn't necessarily provide answers, allowing the viewer to leave with his or her own opinions, and maybe even solutions. We clearly see the eternal struggle between the city's population boom and its longstanding role as a defender of live music. But instead of just hearing facts and dates, you leave Echotone with a true appreciation of these talented human beings. One telling fact is included, however, perhaps the most striking: 70% of Austin's working musicians make less than $15,000 per year from their music. It's not terrorism; it's just terribly sad." – Paste Magazine
"…an interesting ground-level glimpse at a specific point in the life of a city and an industry that's continuing to evolve." – Film Journal International
Directed by Nathan Christ / 88 minutes on 1 disc / 2010
HOW TO ORDER:
Public Performance and Digital Site Licenses are available through Soundview Media Partners. To inquire or to place an order, write to info@soundviewmediapartners.com or simply choose from the options below:
For group screening prices, please inquire.
In-home/personal use copies are available on Amazon: http://amzn.to/2fIYe6S
WATCH THE TRAILER