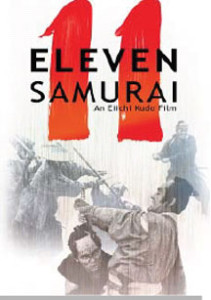 Classic Japanese cinema led to the development of many of today's contemporary action films. Kudo Eichii's Eleven Samurai (1967) is a perfect example of the genre.
In one of the greatest films to come from Japan, the lord of the Oshi fief is killed by his trespassing neighbor, the cruel and despotic Nariatsu, son of the former Shogun. After a biased investigation, the Oshi clan is blamed for what happened and sentenced to be disbanded. Eleven of the best samurai of the clan refuse the sentence and are willing to give their lives for justice.
Noted director Kudo Eiichi reached the zenith of his career with this exciting film about the turbulent days of the Oshi clan! Featuring an all-star cast in one of the most memorable motion pictures from the Toei studio.
The huge cast includes: Isao Natsuyagi, Kôji Nanbara, Kei Satô, Yoshirô Aoki
"The black & white print is gorgeous and crisp and, as always, their program notes help explain the intricacies of feudal Japan well. ELEVEN SAMURAI is a nice addition to your samurai collection. Not as blood-thirsty as some epics, the film strikes a better balance between the cerebral and visceral than can be found in other films." – Shocking Images
"…a perfect mixture of visceral action and character drama and well worth revisiting in years to come. Highly Recommended" – DVD Talk
100 minutes / B&W / 1967 / Japanese w/English subtitles / A film by Eiichi Kudô (Yaju-deka, Jûsan-nin no shikaku)
HOW TO ORDER:
Public Performance and Digital Site Licenses are available through Soundview Media Partners. To inquire or to place an order, write to info@soundviewmediapartners.com or simply choose from the options below:
SPECIAL NOTE: DSL DELIVERY IS VIA DVD WITH APPROPRIATE PERMISSIONS GRANTED
For group screening prices, please inquire.
In-home/personal use copies are available on Amazon: http://amzn.to/2cj7c6l
Watch the trailer