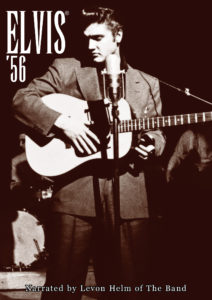 Before Elvis became ELVIS, he was a 20-year-old Memphis truck driver who played with a band on weekends, one of many Southern groups havin' themselves a good time, foolin' around with rockabilly – a mixture of R&B and Country. Then came The Colonel, who wasn't a colonel or an American for that matter, and everything changed.
Elvis '56 is a fascinating documentary about an extraordinary phenomenon known as fame. It is so easy to forget that in one single year Elvis Presley west from being another white kid belting out black music at Sun Studios in Memphis to attracting 54 million viewers on a national television show. What followed Elvis in 1956 will likely never be repeated.
Narrated by The Band's Levon Helm, and produced and directed by Academy Award-winning Alan and Susan Raymond (Children in War), this acclaimed 1987 documentary is the definitive film about Elvis Presley.
The film features incredible performance footage as well as scenes with Milton Berle, Steve Allen and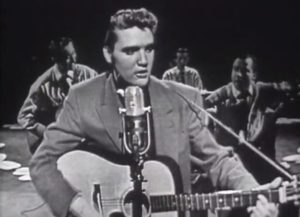 most famously Ed Sullivan, who insisted he be photographed from the waist up to avoid any of those lascivious pelvic thrusts.
Nominated for the Grand Jury Prize (1988) at Sundance.
58 minutes on 1 disc
HOW TO ORDER:
Public Performance and Digital Site Licenses are available through Soundview Media Partners. To inquire or to place an order, write to info@soundviewmediapartners.com or simply choose from the options below:
For group screening prices, please inquire.
In-home/personal use copies are available on Amazon: http://amzn.to/2hWwICO
WATCH THE TRAILER