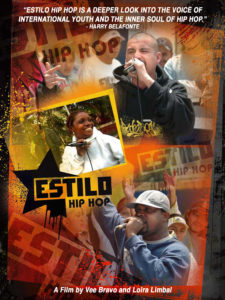 "A deeper look into the voice of International Youth and the inner soul of Hip Hop" – Harry Belafonte
Estilo Hip Hop is a 2009 documentary directed by Loira Limbal and Vee Bravo. It chronicles the lives of three rappers/political activists: Eli Efi of Brazil, Guerrillero Okulto of Chile and Magia of Cuba, and how they attempted to use their music to reach out to the youth of their respective countries. The film broadcast as part of the PBS series Global Voices.
Cinema Politica wrote about the film saying "we learn of three inspirational leaders responsible for mobilizing young people to become politically active. However, the personal issues affecting the three protagonists prove to be as overwhelming as the challenges posed by their political work. As the stakes assume a greater risk, Eli Efi, Guerrillero, and Magia make life-altering decisions that ultimately impact the course of their lives and that of the hip hop movement."
Background on the three featured activists reads as follows: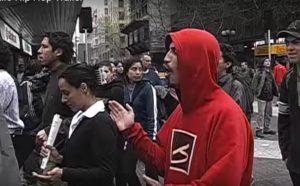 Eli Efi is a hip hop artist born and raised in São Paulo, Brasil. In 1988, he founded the politically charged rap group DMN and went on to record five albums receiving praise from the hip hop community and music industry alike. DMN was nominated for best video and best rap group at the MTV Brasil Video Music Awards, best rap song of the year at the Hutus Hip Hop Awards Festival, and won best music video at the São Paulo Shorts Film Festival. In 2003, he left DMN and in 2004, he moved to the United States.
Guerrillero Okulto is a hip hop recording artist from Chile, one of the most respected and effective youth organizers in that nation's capital. He's led a citywide collective known as RH2A [Network of Hip Hop Activists] whose primary focus was to conduct alternative political education workshops throughout marginal neighborhoods in Santiago. In 2006 RH2A and its affiliates organized the "Social Action Tour", a nationwide tour featuring workshops on media, education reform, and hip hop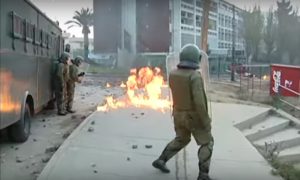 activism was created. In 2005 Guerrillero released his critically acclaimed debut album Versos en resistencia [Verses of Resistance] on Alerce Records, home to the legendary Chilean folk singer Victor Jara. Prior to his career as a recording artist Guerrillero co-founded Hiphoplogia, the first-ever national grassroots organization to fuse social justice advocacy and hip hop. The Chilean hip hop press has called him "the most relevant" artist in the country.
Magia is one half of the Cuban hip hop group known as ObsesiÃn. Their well defined sound caught the attention of many across the world, allowing ObsesiÃn the privilege of performing in the UK, France, Venezuela, Canada and the US. In 2003, they embarked on a month-long tour of the United States, culminating in a historical performance at the infamous Apollo theatre in New-York City, in collaboration with The Roots. Magia is also one of the founding members of La Fabrika which is a collective of artists dedicated to using hip hop to create change on an individual and community level.
The directors themselves have powerful backgrounds that led to the two creating the film,andthe movement itself: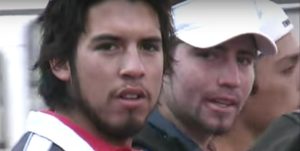 Virgilio Bravo is an independent media-maker and activist. He has initiated several unique projects aimed at creating responsible links between media and marginal communities. These initiatives include the Cell Block Project, a yearly media literacy and film series held at New York's Rikers Island Correctional Facility. In the late '90s Bravo also co-founded Stress magazine, the first lifestyles publication to fuse hip-hop and social activism. Bravo's community work has been recognized and supported by the Open Society Institute, the Union Square Awards, and the Ford Foundation. 
Loira Limbal is a filmmaker, DJ, and activist. Limbal has worked at various community-based organizations including The Point CDC, The Dominican Women's Development Center, and Sista II Sista. Currently, she is the director of The Reel X Project, which is a social justice and creative filmmaking space for young women of color in the Southwest Bronx. Limbal received a bachelor's in history from Brown University and is a graduate of the Third World Newsreel's Film and Video Production Training Program. She has received awards from the Bronx Council on the Arts, the Open Society Institute, Royce Fellows Society, and the Lisa Sullivan Fund for her work combining arts and activism.
2009 / 57 minutes / Spanish w/English subtitles / a film by Virgilio Bravo and Loira Limbal
HOW TO ORDER:
Public Performance and Digital Site Licenses are available through Soundview Media Partners. To inquire or to place an order, write to info@soundviewmediapartners.com or simply choose from the options below:
For group screening prices, please inquire.
In-home/personal use copies are available on Amazon: https://amzn.to/2EABtww
Watch the trailer