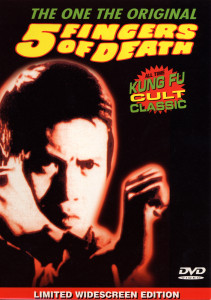 One of the first Chinese Martial Arts films to be shown in US theatres, this 1972 offering from the legendary Shaw Brothers Studio (Tarantino's inspiration for the Kill Bill films) stars the late martial arts legend Lo Lieh.
"The spectacular mix of martial arts action and Western-style melodrama from the legendary Shaw Brothers Studios helped to light the fuse for the kung fu movie explosion in the early '70s. Indonesian actor Lo Lieh is the young acolyte caught up in a struggle between rival martial arts schools; after one villainous outfit murders several of Lieh's classmates with the help of hired killers, he trains to develop the invincible "Iron Palm" technique and defeat the opposing school. Korean director Chang-hwa Jeong delivers stunning (and very violent) action set pieces (set to a dizzying array of American library music cues, most notably Quincy Jones' theme to Ironside) but also manages to create a compelling and dramatic sub-story about loyalty and honor.
The result is a martial arts film that can be enjoyed by viewers who aren't fanatical about the genre and diehard kung fu heads alike.
The widescreen DVD (which surpasses all previous VHS and DVD versions of the film) includes an interesting commentary track by Quentin Tarantino (who aided Dragon Dynasty in assembling its Shaw Brothers library) and critics Elvis Mitchell and David Chute, who discuss King Boxer's appeal and thematic similarities to Hollywood product; Chute is also featured with critic Andy Klein in one of three short supplements about the film's production and history, with director Jeong and martial arts  choreographer Liu Chia-Liang taking center stage for the others." – Paul Gaita (for Amazon)
86 minutes + bonus on 1 disc
HOW TO ORDER:
Public Performance and Digital Site Licenses are available through Soundview Media Partners. To inquire or to place an order, write to info@soundviewmediapartners.com or simply choose from the options below:
For group screening prices, please inquire.
In Home/Personal use copies also avalable. Buy it on Amazon: http://amzn.to/11u1hCg
WATCH THE TRAILER
Fun GIFS. Click to watch…