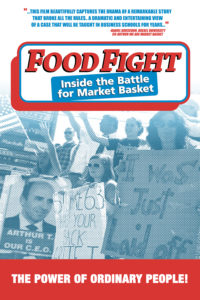 It started as a family feud. It turned into the largest non-union labor walkout in U.S. history. This is the inside story of the battle to save New England's beloved grocery chain Market Basket, and the unique battle to save its CEO Arthur T Demoulas.
"It is a person's moral obligation and social responsibility to protect a culture which provides an honorable and dignified place at which to work." – Arthur T Demoulas, August 28, 2014
"FOOD FIGHT" is a film about the power of ordinary people to take matters into their own hands and fight for what they believe in. What started as a family feud turned into the largest non-union labor walkout in U.S. history. Hundreds of employees walked out. Thousands more risked their jobs. Millions of consumers boycotted and a $4 billion company was brought to its knees! "FOOD FIGHT" is the inside story behind the fight to save the grocery chain Market Basket.
WHAT EXACTLY WAS THE FOOD FIGHT?
Headquartered in Tewksbury, Massachusetts, servicing Massachusetts, New Hampshire and Maine, Market Basket was then and is now again a leader in the grocery store business. Despite it's phenomenal growth and ultra-loyal consumer base, it wasn't always smooth sailing for the family born business.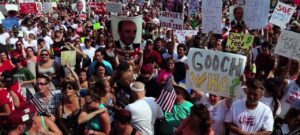 When one faction of the Market Basket board, headed by Arthur S. Demoulas, fired his cousin and arch-rival Arthur T. Demoulas as long-time CEO of the successful chain,
it set off a firestorm that sparked one of most unique corporate dramas
in American labor and corporate legal history.
For 6 weeks during the summer of 2014, a corporate "food fight" played out in the stores' isles and more importantly in the streets across New England. It impacted tens of
thousands of workers and the economies of three states.
Esquire Magazine called it "the last stand for the middle class".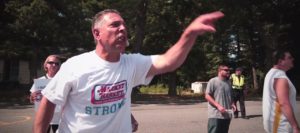 Within days of hearing the news that their beloved CEO Artie T. had been axed, high-ranking managers began to resign. Others were fired. Truckers stopped trucking. Buyers stopped buying. Warehouses stopped supplying. Vendors stopped shipping.
Customers stopped shopping. And, the employees began picketing in the parking lots.
Governors from two states were called in to negotiate a settlement. Practically overnight, the $4 billion dollar business ground to halt.
Coverage of the Corporate "Food Fight" ran heavily across regional, national and international media as the fight to save Market Basket soared to unprecedented of levels.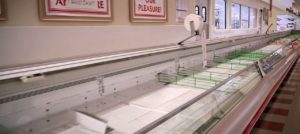 "The company has lost tens of millions of dollars in the past six weeks while Demoulas and his cousin, Arthur S. Demoulas, have continued to fight over it." – Boston Globe
"Simply put, they [the employees] want one thing: Arthur T (or "Artie D" as he's called by a certain type of north-eastern Massachusetts accent) back as their boss, after he was sacked in a long-running family feud. That demand has raised eyebrows because, in the words of the Save Market Basket theme song: "Have you ever heard of workers fighting for a CEO?" – BBC News
"The result is a film filled with drama and emotion – hope, anger, fear – but most of all, it's a story about the courage of just regular, hard-working people and what they sacrificed to save the company that treated them – 25,000 employees – so well" – Seacoast Online
Winner of Audience Award, Newburyport Documentary Film Festival
Winner, Best Content, Boston International Film Festival
Official Selection: New Hampshire Film Festival
The legal and business lessons stemming from the tumultuous "Food Fight" remain studied today. Not just in relation to grocery stores, but relative to all corporations being put on notice.
"Market Basket Inc. found itself in a rare situation that exposed the relatively unknown, but potentially disastrous consequences of focusing solely on the short-term increase of shareholder value." – Northeastern University Law Review
"What is clear is that these protesters are fighting for more than their CEO. Should they succeed, it could represent a turning point in how we think about corporate ownership. It may also force us to rethink what a corporation is and who owns it." – Washington Post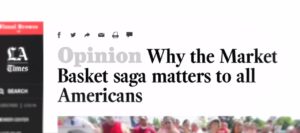 2016 / 103 minutes / color / 16×9 / A film by Jay Childs / Produced by Jay Childs, Melissa Paly and Tom Bennett
HOW TO ORDER:
Public Performance and Digital Site Licenses are available through Soundview Media Partners. To inquire or to place an order, write to info@soundviewmediapartners.com or simply choose from the options below:
For group screening prices, please inquire.
In-home/personal use copies are available on Amazon: https://amzn.to/2xPDxwC
WATCH THE TRAILER