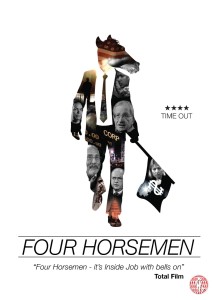 23 international thinkers come together and break their silence about how the world really works and why there is still hope in re-establishing a moral and just society.
Four Horsemen is free from mainstream media propaganda, doesn't bash bankers, criticize politicians or get involved in conspiracy theories. The film ignites the debate about how we usher a new economic paradigm into the world which, globally, would dramatically improve the quality of life for billions.
Winner, Best International Documentary, Galway
Winner, Best International Documentary, Tehran
Global Justice Award, OXFAM
Official Selection Gothenberg/Sweden, DOXA/Canada, OXDOX/UK, Durban/S. Africa, 360 Science/Moscow, Doc Edge/New Zealand, Labour Film Festival/London, IDFA and numerous other festivals around the globe.
"There are thoughts here of such profundity you might feel the need to reach for the rewind button. I, for one, have been substantially enlightened." – Derek Adams – Time Out
"Ashcroft keenly rejects amorality and apathy alike, and he may be the first documentarist working in this field to elicit viable solutions from his interviewees, rather than baleful shrugs: you can't fail to emerge better informed, and better prepared to make the kinds of changes and perception shifts we need to make if we are to move forward from here. Despite the doom laden title, this is a hugely encouraging watch." – Mike McCahill, Cinesthesiac
"It's Inside Job with bells on, and a frequently compelling thesis thanks to Ashcroft's crack team of talking heads – economists, whistleblowers and Noam Chomsky, all talking with candour and clarity." – Total Film
"That rare kind of film which is capable of changing one's perspective on the entire world." – Lucy Purdy, Sublime Magazine
The international thinkers:
Prof. Joseph Stiglitz is an Economist and Professor at Columbia University, winner of the Nobel Memorial Prize in Economic Sciences and Former Senior Vice President and Chief Economist of the World Bank.
Noam Chomsky is the Institute Professor and Professor emeritus of linguistics at the Massachusetts Institute of Technology. He is a World renowned American linguist, philosopher, cognitive scientist, political activist, author, and lecturer who's dominated his field for over 30 years. The New York Times has labeled him 'arguably the most important intellectual alive'.
John Perkins is the New York's Times bestselling author of 'Confessions of an Economic Hit-Man' telling the real-life story about his extraordinary dealings as an Economic Hitman and CIA contractor, exposing the world of international intrigue and corruption.
James Turk has specialized in international banking, finance and investments for over forty years. He is the Founder of GoldMoney, a new electronic gold currency for use in ecommerce and has written extensively on money and banking including the book co-authored with Jon Robino 'The Collapse of the Dollar'.
David Morgan (aka The Silver Guru) is a widely recognized analyst in the precious metals industry and consults for hedge funds, high net worth investors, mining companies, depositories and bullion dealers. He is the publisher of 'The Morgan Report' on precious metals.
Dr. Ha-Joon Chang is part of the Faculty of Economics, University of Cambridge and leading heterodox economist specializing in development economics. He is a consultant at The World Bank, the Asian Development Bank and the European Investment Bank as well as to Oxfam and various United Nations agencies.
Michael Hudson is the President of The Institute for the Study of Long-Term Economic Trends (ISLET), a Wall Street Financial Analyst, Distinguished Research Professor of Economics at the University of Missouri, Kansas City and author of 'Super-Imperialism: The Economic Strategy of American Empire'.
Col. Lawrence Wilkerson: Former Chief of Staff to United States Secretary of State Colin Powell, Lawrence Wilkerson is a retired United States Army Colonel and Visiting Professor of Government and Public Policy at the College of William & Mary. He is also Professorial Lecturer in the Public Policy Honors Program at George Washington University and is one of the most well known government staff members in the USA.
Satish Kumar is the editor of Resurgence Magazine, founder and Director of Programmes of the Schumacher College International Centre for Ecological Studies and of The Small School.
Phillip Blond is a British political thinker, theologian, philosopher, and director of the think tank ResPublica. He is the author of 'Red Tory' and research fellow at NESTA he is an internationally recognised economic and cultural commentator.
Lord Ahmed of Rotherham is a Member of the House of Lords, having become the United Kingdom's first Muslim Life peer in 1998. Many of his political activities relate to the Islamic community both in the UK and abroad, and he has often attracted controversy.
George Nilson is an Office of the Mayor Cabinet Member and Baltimore City lawyer. He was prosecutor for Baltimore City Council in the case against Wells Fargo.
Simon Johnson is a Professor of economics at the MIT Sloan School of Management, Senior Fellow Peterson Institute for International Economics and former Chief Economist at the IMF.
Prof. Herman Daly is a Professor of Economics at the University Of Maryland School Of Public Affairs. He is Former Senior Economist at the World Bank and Co-founder of 'Steady State Economics'. He was named Ad Busters magazine man of the year 2009.
Hugo Salinas Price is founder, former chief executive officer, and honorary president of Gruop Elektra, the Mexican retailing company. He is also founder of the Mexican Civic Association Pro Silver, which for 10 years has been advocating the introduction of a monetized silver coin in parallel circulation with fiat pesos in Mexico. He is the world's leading advocate of silver's role as money.
Max Keiser is a broadcaster, journalist and former Wall Street Trader. He is the inventor of Virtual Specialist Technology / Prediction Markets, Hollywood Stock Exchange, Karmabanque, and PirateMyFilm. His Keiser report has a loyal fan base with over 3.5million hits on Youtube and his show on Russia Today is viewed by a million people per week.
Tarek Al Diwany is a former Derivatives Trader and partner at Zest Advisory LLP, a London-based firm providing consulting services in Islamic banking and finance, and frequent speaker on the topic of Islamic banking at conferences throughout the world.
Gillian Tett is US managing editor and an assistant editor of the Financial Times. Previously, Tett was assistant editor responsible for the FT's markets coverage. She has also served as capital markets editor, deputy editor of the Lex column and London-based economics reporter. In March 2009 she was named Journalist of the Year at the British Press Awards and bestselling author of 'Fools Gold'.
Prof. Richard Wilkinson is a former Professor of Social Epidemiology at the University of Nottingham and Co Author of 'The Spirit Level' explaining why more equal societies do better than those that are un-equal.
Camila Batmanghelidjh is the founder and director of Kids Company, she is a psychotherapist and social entrepreneur whose work focuses on children marginalized by society.
Revd Donald Reeves MBE is the founder of The Soul Of Europe. Revd Donald Reeves MBE is an Anglican priest and was Rector of St James's Church, Piccadilly, London from 1980 until 1998.
Najma Sadeque is a Pakistani writer, journalist and researcher on socio-economic issues. She is a founding member of the Women's Action Forum of Pakistan and founding member of Shirkat Gah, the first women's rights-oriented development organisation in Pakistan.
Kaiser Bengali is the former head of the Social Policy and Development Center (SPDC), Karachi and Sustainable Development Policy Institute (SDPI), Islamabad. He is an economist, human rights activist and writer tackling the issue of displacement of poor settlements in cosmopolitan Karachi.
97 minutes on 1 disc / Produced and directed by Ross Ashcroft / Color
HOW TO ORDER:
Public Performance and Digital Site Licenses are available through Soundview Media Partners. To inquire or to place an order, write to info@soundviewmediapartners.com or simply choose from the options below:
For group screening prices, please inquire. In-home/personal use copies are available on Amazon: http://amzn.to/2bgT920
WATCH THE TRAILER