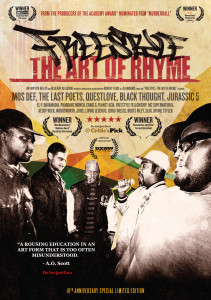 The world of improvisational rap is explosively explored in this look at the best MC's to ever bless the mic!
From the creators of the Academy Award Nominated film "Murderball" and over 10 years in the making comes the cult classic documentary "FREESTYLE: The Art of Rhyme"! The world of improvisational rap is explosively explored in this award wining and critically acclaimed authentic look into the life, music and history of 1990's underground hip hop culture!
Packed with rare and archival footage of some of the most amazing MC's ever to bless the mic, including Mos Def, Notorious BIG, The Roots, and many more! The movie features the story of MC Supernatural and his quest to become a champion, battling many in his way including his arch nemesis Craig G of the famed Marley Marl Juice Crew.
Made by a grass roots co-operative of independent local community filmmakers, b-boys, DJ's, and MC's, this documentary takes us on a journey through the previously unexamined dimensions of hip hop as a spiritual and community based art form. Combining the best of independent art house cinema within the hip hop mix tape format, the film features legendary battles from New York to LA, including The Lyricist Lounge, Project Blowed, and The Wake Up Show!
The artists featured in the film including Jurassic 5, Planet Asia, Freestyle Fellowship, MC Juice, Lord Finesse, Wordsworth, Boots Riley, and The Living Legends provide insight into one of the least seen faces present in the music: improvisation and creativity. Structured with insights from the Last Poet's esteemed Abioudun Oyweole and jazz & rap historians Freestyle connects the dots from the pain and love of yesterday's poets to today's hip-hop innovators. Revealing the art forms stunningly emotional outlet; whether sharing energy in a street corner cipher for block cred or a stadium's commercial rap performance full of 1,000s of paying fans. Like the Griots of Africa or the wail of Coltrane's saxophone, today's hip-hop MCs all have a similar purpose: to share their experience with others hungry for truth, community and healing.
75 minutes on 1 disc / Color / 2000
HOW TO ORDER:
Public Performance and Digital Site Licenses are available through Soundview Media Partners. To inquire or to place an order, write to info@soundviewmediapartners.com or simply choose from the options below:
For group screening prices, please inquire.
In-home/personal use copies are available on Amazon: http://amzn.to/29eTq1m
WATCH THE TRAILER