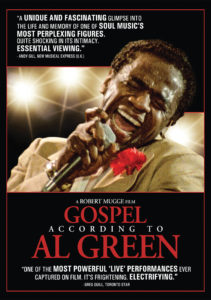 Acclaimed filmmaker Robert Mugge's GOSPEL ACCORDING TO AL GREEN examines the turbulent career of soul singer and gospel preacher Al Green.
"Al Green remains one of the most potent singers of the era, even if he's singing for God now. Screaming, moaning, sweating through his suit, Green offers his voice in total supplication to the Lord…wailing until he's in danger of bursting a vein." – Denver Post
"Shows Soul Singer's Struggle With Sin And Salvation. The tension between the singer's secular hits and his sanctified calling lay at the heart of Gospel According To Al Green" – Decider
In the early and mid 1970s, the release of songs like "Let's Stay Together," "Love and Happiness," "Tired of Being Alone," and "Take Me to The River" made Al Green one of the most successful soul and pop singers in the world. However, as the decade progressed, Green suffered an existential crisis, prompted by a questioning of his own increasingly decadent lifestyle, as well as by the death of a girlfriend who scalded him with hot grits before shooting and killing herself. He also claims to have had a religious reawakening after performing a concert at Disneyland.
All of this led to his abandonment of popular music, his purchase of a Memphis church building, his installation of himself as the pastor of that church, and the start of a part-time career as gospel artist.
"A revelation. Pure musical electricity. GOSPEL ACCORDING TO AL GREEN, which explores the aftermath of Green's conversion, lets you share that electricity, as well as the palpable bliss of the man who generates it. Fascinating." – Boston Phoenix
"Electrifying. Intelligent. Really fascinating. An absorbing film that illustrates soul music's debt to gospel and offers an in-depth look at one of soul and gospel's most compelling performers." – Chicago Tribune
Robert Mugge's now classic 1984 film GOSPEL ACCORDING TO AL GREEN documented the seventh-anniversary service at Green's Full Gospel Tabernacle Church, a rehearsal in his Memphis recording studio, an extended interview, and a concert at Bolling Air Force Base in Washington, D.C.
Also interviewed for the film were legendary record producer Willie Mitchell, who produced and co-wrote Green's most famous soul hits, and music and TV critic Ken Tucker, who helped to place Green's accomplishments in a larger cultural context.
In short, as presented in the film, Green's story is a mythic tale about a rhythm and blues artist who started out singing love songs to women, but ended up singing similar songs to God. In other words, as Mugge once said when introducing screenings of GOSPEL ACCORDING TO AL GREEN, "This is a film about love; a film about the connections between soul music and gospel; and a film about a man who flew too close to the sun, got his eyeballs burned, and has been singing ever since with fire coming out of his mouth."
Thanks to the film's 4K remastering, the power of Green's performances, and the intimacy of his storytelling, have never shone more brightly.
"A unique and fascinating glimpse into the life and memory of one of soul music's most perplexing figures. Quite shocking in its intimacy. Essential viewing." – New Musical Express
Tracks included in the film
Let's Stay Together
Free At Last
People Get Ready

Straighten Out Your Life
Hallelujah (I Just Want to Praise the Lord)
Let's Stay Together
94 minutes on 1 disc + DVD bonus material: 90-minute audio interview, reflections by director Robert Mugge, concert excerpts, extended song, extended audio excerpt of church service, and more.
"Mr. Mugge's handsome film captures [Green's] full wattage – and that's saying a lot. Extraordinary singing and performing." – New York Times
HOW TO ORDER:
Public Performance and Digital Site Licenses are available through Soundview Media Partners. To inquire or to place an order, write to info@soundviewmediapartners.com or simply choose from the options below:
For group screening prices, please inquire.
In-home/personal use copies are available on Amazon: http://amzn.to/2nOZjey
WATCH THE TRAILER