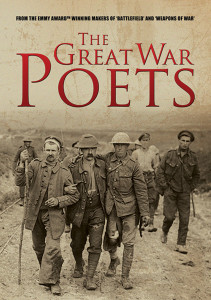 The shattering experience of the Great War in the trenches took its toll on a generation of men who were called up to fight in the nightmare of the trenches. The experience proved so awe inspiring that for many the experience could only be summed up in verse. Today their work has become famous for its poignancy and sense of loss.
Young men such as Wilfred Owen, John McCrae, and Rupert Brooke were cut down in their prime yet their memory lives on in the brief flowering of immortal verse. Others such as A. E. Houseman and Siegfried Sassoon survived the war and were able to add a more reflective aspect.
This powerful documentary hosted by Emmy Award winning writer and film maker Bob Carruthers revisits the battlefields where the war poets found their inspiration and presents a moving and comprehensive survey of their lives and work.
48 minutes on 1 disc
HOW TO ORDER
Public Performance and Digital Site Licenses are available exclusively through Soundview Media Partners. To inquire or to place an order, write to info@soundviewmediapartners.com or select from the License Options below:
In-home/personal use copies are available on Amazon: http://amzn.to/1SVKsYh