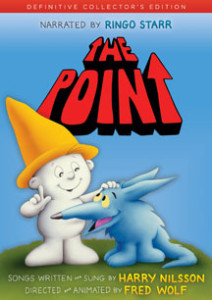 Never has nonconformity been celebrated with such charm." — Jeff Miers, Buffalo News
Directed by Academy Award-winner Fred Wolf, "The Point" tells the story of Oblio, a round-headed boy living in the land of "Point," where everything and everybody has one. Oblio, along with his trusty dog, Arrow, is banished to the Pointless Forest.
The tale is narrated by Ringo Starr and includes songs written and sung by Grammy Award-winner Harry Nilsson. This is the definitive collector's edition.
"The film's message [is] about tolerance and self-affirmation" – Film Threat 
"Finally, a new generation of kids can float away on the entrancing cartoon creation of Harry Nilsson (1941-94), the American singer-songwriter who counted the Beatles among his admirers. The Point is a prime example of mass-culture outreach by a countercultural artist (dig the psychedelic number "P.O.V. Waltz"). B+" —Ken Tucker, Entertainment Weekly
TRACK LISTING
Me And My Arrow
Everything's Got 'Em
Poli High
Think About Your Troubles

Life Line
P.O.V. Waltz
Are You Sleeping'
This Definitive Collector's Edition Includes Four Never-Before-Seen Bonus Featurettes Sure To Entertain, Surprise and Amaze!
Who Is Harry Nilsson?
Pitching The Point
Making The Point
Legacy Of The Point
The Point! first aired February 2, 1971, and was the first animated special ever to air in prime time on US television; it broadcast as part of the network's ABC Movie of the Week series.
1971 / 74 minutes / A film by Fred Wolf
HOW TO ORDER:
Public Performance and Digital Site Licenses are available through Soundview Media Partners. To inquire or to place an order, write to info@soundviewmediapartners.com or simply choose from the options below:
For group screening prices, please inquire.
In-home/personal use copies are available on Amazon: http://amzn.to/2dVDbx4
WATCH THE TRAILER