Every 54 hours, the thin blue line fades to black…
A total of 1,439 law enforcement officers died in the line of duty during the past 10 years. That translates into 144 per year on average. The first recorded policeman slaying was in 1791. 20,000 have been slayed since then. [source: National Law Enforcers Memorial Fund]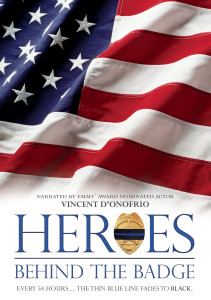 Heroes Behind the Badge is about a social issue that has its roots in American history and has plagued our nation throughout time.
An inspiring and gripping documentary that addresses law enforcement, criminal science, psychology and bravery across a trajectory of true crime, Heroes Behind The Badge follows three stories of law enforcement officers who were tragically killed in the line of duty. From San Diego, CA, comes the high profile case of Officer Jeremy Henwood who was randomly shot and killed as he sat and ate lunch just minutes after generously buying lunch for a young boy whom he had never met before. From Miami, FL, Officer Roger Castillo and Officer Amanda Haworth are both shot and killed while serving a homicide warrant. And from Springfield, OH, comes the story of Deputy Suzanne Hopper who was shot and killed while investigating a 'shots fired' call to police.
Narrated by Vincent D'Onofrio, the film also follows three high-profile cases of near death and survival, including the story of Mike Neal, a wildlife officer form West Memphis, AR, who faced heavy gunfire head on as he attempted to stop AK-47 wielding criminals who had just shot and killed two officers on the side of the Interstate. From Fond du Lac, Wisconsin comes the story of K9 officer Ryan Williams who was shot twice along with his police dog Grendel, while responding to a standoff with a gunman. Both the officer and his K9 partner survived to tell their story. And finally comes the story of off-duty Federal Officer, Inspector Anton Sampson, who saved a young girl from armed assailants after exchanging gunfire and chasing one of the armed assailants into nearby woods to be later apprehended.
Educational, insightful, emotional and powerful, these compelling true crime accounts shed light on a subject that has long been overlooked. These stories culminate with coverage of police week 2012, where the 164 American officers who were killed in the line of duty in 2011 are recognized at the National Law Enforcement Officer's Memorial in Washington, DC.
Directed by British Academy Award winning filmmaker, Wayne Derrick, this film will serve as a tribute in honoring the lives of those brave men and women behind the badge who risked it all.
90 minutes on 1 disc
HOW TO ORDER:
Public Performance and Digital Site Licenses are available through Soundview Media Partners. To inquire or to place an order, write to info@soundviewmediapartners.com.
For group screening prices, please inquire.
In-home/personal use copies are available on Amazon: http://amzn.to/1XdO38b
WATCH THE TRAILER