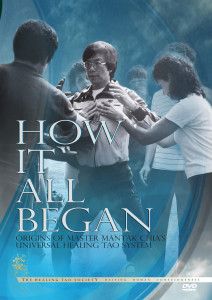 HOW IT ALL BEGAN…
At a time in history when Yoga was practiced in basements and Martial Arts was found only in the movies, Taoist Internal Alchemy was not accessible to the western world. This was the time when Master Mantak Chia came to America with a dream to share Taoist Wisdom.
Early seekers of the Tao found him in a small office in Chinatown, New York City and the Healing Tao system was born and became the bridge between East and West. We traveled the world to interview Master Chia and many others.
"Teaches you the hidden secrets found in the knowledge of Master Chia. It will be one of the most enlightening documentaries that you will ever watch." – The Examiner
"…really about the first generation of American and European students themselves, who sought Chia out and went on to form a substantial community," – Video Librarian
HOW IT ALL BEGAN features:
• Master Mantak Chia
• Raven Cohen
• Minke de Vos
• Ron Diana
• Marie Favorito
• Juan Li
• Renu Li
• Michael and Lois Posner
• Sharon Smith
• Cathy Umphress
• Rob Wall
• Gunther Weil
• Michael Winn
• Dr Lawrence Young
93 minutes on 1 disc
HOW TO ORDER:
Public Performance and Digital Site Licenses are available exclusively through Soundview Media Partners. To inquire or to place an order, write to info@soundviewmediapartners.com or select from the License Options below:
For group screening prices, please inquire info@soundviewmediapartners.com
In-home/personal use copies available on AMAZON http://amzn.to/SK6nbj. 
Healing Tao Society Mission Statement:

• To support individuals in their life quest through Taoist practices
• To help those in need to fulfill their destiny as enlightened beings
• To educate those souls who are searching and willing to raise their consciousness
• To finance research in understanding the ways of Universal laws
• To gather and share a body of oral teachings keeping them alive for future generations