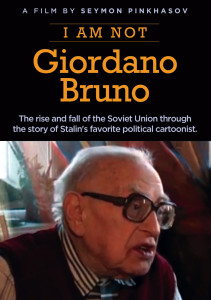 "I Am Not Giordano Bruno" depicts the rise and fall and ever-changing political landscapes of the Soviet Union through the story of Stalin's favorite political cartoonist….
The film is dedicated to the life and work of Soviet Russia cartoonist Boris Efimov. Efimov lived to be 108 years old. He was Soviet dictator Stalin's favorite cartoonist. Stalin decorated him with many awards and medals, but gave an order to kill his brother.
In this documentary Boris Efimov tells the story of the birth, development, and fall of the Soviet Union.
About Boris Efimov
"The political cartoonist Boris Efimov drew his way through the 20th century in Russia. By the time he passed away last year at 108, his pen had churned out political cartoons for Soviet newspapers and magazines on just about every major world event of the past hundred years. Whether it was during the dark days of WWII, when Russia faced annihilation by the Nazis – who had orders to hang Efimov on sight – or during the super- power days of the Cold War, Efimov always had an inexhaustible supply of images and jokes to deploy against the enemy. His list of satirical casualties ranges from the Tsar to Ronald Reagan, from the epoch of the horse-drawn carriage to the space age." – Passport Moscow
2006 / 54 minutes / A film by Semyon Pinkhasov
HOW TO ORDER:
Public Performance and Digital Site Licenses are available through Soundview Media Partners. To inquire or to place an order, write to info@soundviewmediapartners.com.
For group screening prices, please inquire.
In-home/personal use copies are available on Amazon: http://amzn.to/24B4ocB
WATCH THE TRAILER