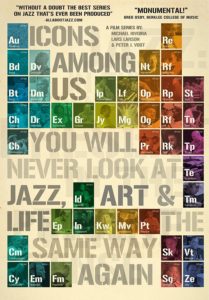 Icons Among Us: Jazz in the Present Tense is a comprehensive four-part documentary film series that looks at the Jazz music scene today. Through interviews, performance footage, and the voices of the musicians themselves, the film explores this music and the divergent influences that are shaping the world of Jazz at the beginning of the 21st Century. Not a historical look at what has been called America's Music but a timely, vibrant trip through the clubs, festival, and the lives of this new generation of jazz musicians.
Never before has jazz music been so many different things to so many different people, from hip hop to bebop; from jam band to free form, the music continues to grow and shape itself in ways as varied as the musicians who play it. Icons Among Us is a look at all of this and more.
"The (Ken) Burns' series always will be the Constitution on the subject, this film (Icons) serves as its Bill Of Rights, reminding the viewer that as important as the original documentary was, there occasionally needs to be additions such as this work to flesh out the dream more perfectly." – Mike Ragogna, Huffington Post
"With the kind of boundary-busting, genre-defying approach that Icons Among Us: Jazz in the Present Tense has demonstrated throughout its four-week run, jazz finally has a voice that articulates not only what it was, but what it is and what it might become. Without a doubt the best series on jazz that's ever been produced, it's one that doesn't deny the music's deep roots in the African-American tradition; but by including voices from around the world, from different cultures and genders, it posits that it is, indeed, time to dispense with narrow definitions and accept jazz as a music that grows through cross- pollination, assimilation and inclusion." – John Kelman, All About Jazz
"Anyone with a love or an interest in jazz should see this film" – Jazz History Online
"For anyone interested in the history of one of America's original mediums or the future of progressive music, the film is a must see." – Performer
"Many feel that this is the best documentary on jazz that's ever been produced. It makes it clear that there's never been as exciting a time as right now, with artists from around the globe ensuring that jazz will not only remain viable and vital into the future, but that it will continue to reshape and reinvent itself in ways that nobody can predict." – Reviews by Amos Lassen
The inaugural movement of the series directly challenging perceptions of what jazz is and what it is becoming by examining its innovative new voices as well as their influential forebears. We discover the primary questions associated with the jazz artists quest to define themselves and their art form. They bravely communicate their allegiance to the present time in the face of jazz legacies that are monumental. The new voices as well as the powerful journeymen weigh in on their search for mentorship and its powerful effect on success.
The dialogue unfolds with Nicholas Payton, Terence Blanchard, Jason Moran, Russell Gunn, Matthew Shipp, Avishai Cohen, Bill Frisell, Greg Osby, Robert Glasper, Bugge Wesseltoft, Aaron Parks, Lionel Loueke, Frank Lacy and David King, featuring interview appearances with Wynton Marsalis, Herbie Hancock, Joe Lavano and George Wein.
Episode 2: 12 Notes in Realtime
12 notes is all you have in western music. Inside that tiny box one finds expressions of love, friendship, glory, pain, joy and humor. 12 notes. The difficult part is to spin and space those notes in real time, in front of a live audience. This is where everyday life is distilled in the fire of the deep ritual of improvised music. This is where the true art of the jazz musician comes to life in the moment of connecting his and her inner universe to that of a larger world.
This episode features Skerik, Marco Benevento, Gretchen Parlato, Ravi Coltrane, Dafnis Prieto, Esperanza Spalding, Chris Potter, Dave Holland, Danilo Perez, Anat Cohen and Dianne Reeves as they engage the world in a dialogue that could happen in no other time.
Episode 3: In the Spirit of Family
In this episode, Icons Among Us goes inside with a deeper look into the process, the lifestyle and the friendships that create a unique bond only a band can possess. If jazz could offer us a model for a society in which everyone contributes to a greater good rather than focusing on personal gain, it would be reflected in the exploration of the collaborative process.
During the seven plus years of production, Icons has been able to capture the natural progression of select bands such as The Bad Plus, Soulive, Medeski Martin and Wood, E.S.T., Brian Blade & The Fellowship Band, Jacob Fred Jazz Odyssey, daKAH Hip Hop Orchestra and Jason Moran and the Bandwagon who offer up new languages and a unique glimpse into an often ideal world.
Episode 4: Everything Everywhere
The origins of jazz are mysterious; its journey less so. African rhythms finding western instruments. Folk music of the Caribbean drifting north into the brackish waters of New Orleans, mingling with the blues, Native American spirit, and the individualistic impulse of restless democracy. The transmission of this enigmatic but eminently humane art form to the world and to the youth who live in the epicenters of its origins and lifeblood are the focus of our final episode.
Courtney Pine and Richard Bona weigh in with incredible stories evoking the penetration of jazz DNA into the body of world music. Terence Blanchard, Stanton Moore, Roy Hargrove, Charlie Hunter, Donald Harrison and the Dirty Dozen Brass Band bring us home to New Orleans, a damaged but luminous vessel that still embodies a musical culture unique to the world.
SPECIAL FEATURES (contained on the DVD Only) –
Over Two Hours of Special Features including:
Performances by Donald Harrison, Jr. Quartet, Bill Frisell Trio, Matthew Shipp, 2011 Grammy® Nominee Danilo Perez, Dafnis Prieto Sextet, The Bad Plus, Brian Blade & The Fellowship Band, Jacob Fred Jazz Odyssey, e.s.t., The Roy Hargrove Quintet and Bugge Weseltoft.;
In Depth Profiles of advocates: JAZZREACH, EARSHOT JAZZ and JAZZ FOUNDATION OF AMERICA;
64-page Study & Discussion Guide (CD-ROM).
220 minutes / 4 disc
HOW TO ORDER:
Public Performance and Digital Site Licenses are available through Soundview Media Partners. To inquire or to place an order, write to info@soundviewmediapartners.com or simply choose from the options below:
For group screening prices, please inquire.
In-home/personal use copies are available on Amazon: http://amzn.to/2n64fOl
Watch the trailer