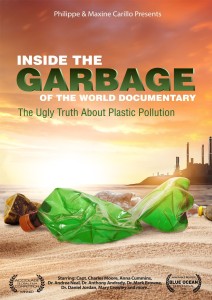 The Ugly truth about plastic pollution
Here is an informative, hard hitting and educational film about the environmental problem of plastic pollution inside the Oceans rising to a dangerous level for human safety and its solution. The film busts the myth of a plastic island floating in the middle of the Pacific Ocean and unveils the accurate data that is worse. We are at the edge of a tremendous disaster that is coming if we don't do anything about it.
The film raises the question of sustainability of the world as a whole, and the challenges we will have to face in order to survive. Is the level of awareness of the human kind high enough to make the change fast enough to save the future?
This film emphasizes our personal responsibility in this global massacre.
"…a high quality Full HD documentary that is making waves at major film festivals, … and most importantly, affecting the audiences who see it. … unfolding the myth of the Plastic Trash island, the film exposes many alarming facts." – Jana Ritter, CNN Ireport
"Oceanographers, Scientist and Experts such as Capt. Moore (Algalita Marine Research Institute), Anna Cummins (5 Gyres Institute), Dr. Andrea Neal (Jean-Michel Cousteau), Mary Crowley (Ocean Voyage Institute – Project Kaisei) and many other experts are sharing their experiences and researches." – Yahoo Finance
A film by Philippe and Maxine Carill
78 minutes on 1 disc
HOW TO ORDER:
Public Performance and Digital Site Licenses are available through Soundview Media Partners. To inquire or to place an order, write to info@soundviewmediapartners.com or choose from the License Options just below:
For group screening prices, please inquire.
In-home/personal use copies are available on Amazon: http://amzn.to/1Tly9qV
WATCH THE TEASER

WATCH THE TRAILER 1