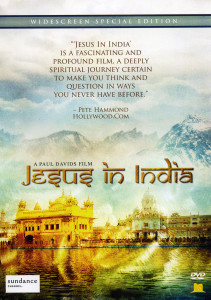 Originally broadcast on Sundance Channel.
Jesus in India is a seeker's quest across 4000 miles of India in search of answers about where Jesus was during the "Hidden Years" from ages 12 to 30. The New Testament is silent on those years, however, in India there is an ancient tradition that young Jesus joined a caravan and took the Silk Road to the East, where He lived with both Hindus and Buddhists before returning to begin His ministry.
"Jesus in India is a fascinating and profound film, a deeply spiritual journey certain to make you think and question in ways you never have before" – Pete Hammond, Hollywood.com
"Paul Davids sifts through legends, myths and historical evidence in an attempt to unravel the mysteries of the life of Jesus of Nazareth from ages 12 to 30, an 18-year period that is not described in the Bible. Among the more controversial explanations for these "Hidden Years": that Jesus may have spent some of this time in India, a theory examined in the book "King of Travelers: Jesus' Lost Years in India" by Edward T. Martin, whom Mr. Davids follows as he visits holy sites and seeks clues about an ancient text found in a Himalayan monastery." – New York Times
"This film, some think, has the potential to revolutionize Christianity by virtue of the humanization of Jesus." – Atlantis Rising Magazine
97 minutes on 1 disc / widescreen / color / A film by Paul Davids.
HOW TO ORDER:
Public Performance and Digital Site Licenses are available through Soundview Media Partners. To inquire or to place an order, write to info@soundviewmediapartners.com or simply choose from the options below:
For group screening prices, please inquire.
In-home/personal use copies are available on Amazon: http://amzn.to/2cJ8MhI
Watch the trailer