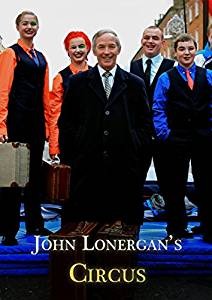 WINNER: Best Documentary Series – IFTA
How can you change the course of destiny for disadvanted teens?
"John Lonergan, uses a process known as 'social circus' where the tough challenge of performing is used to improve self-esteem, team work and discipline within a group of disadvantaged youths." – Gorilla Creative Post Production
Having seen tens of thousands of prisoners pass through his hands during his time as governor of Dublin's Mountjoy Prison, John Lonergan has now turned his attention to a group of teenagers from the disadvantaged communities that keep the cells of his former alma mater well stocked.
Funded by the Broadcasting Authority of Ireland and RTÉ…
Former prison governor John Lonergan has a unique way of working with young people from disadvantaged communities. His group spends two days a week with the Belfast Community Circus School with the aim of transforming lives through the power of circus arts and street theatre. His methods though unique now have a proven track record. The effect they have boosts the creativity, self-esteem, teamwork and discipline of the participants.
Statements from some of the young participants, cited from an interview with them by THE IRISH TIMES during production:
FRANCESCA GRANT (17)… "I'm dreading this being over"
ANTON CARASS (16)… "The training hasn't been easy; it's all conditioning and I'm definitely a lot fitter now and, I think, a bit more disciplined."
PAUL GILLIGAN (18)… "It was brilliant to see what you can do"
2 hours, 43 minutes (multi-episodic)
HOW TO ORDER:
Public Performance and Digital Site Licenses are available through Soundview Media Partners. To inquire or to place an order, write to info@soundviewmediapartners.com or simply choose from the options below:
For group screening prices, please inquire.
In-home/personal use copies are available on Amazon: http://amzn.to/2dIhwcS
WATCH THE TRAILER