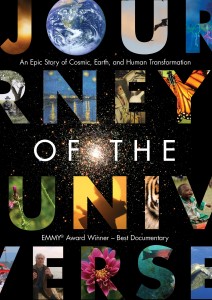 One day on a Greek Island, and your view of the universe will change forever…
The subject and core of Yale University's first MOOC, Journey of the Universe "…transforms how we understand our origins and envision our future" – Yale University Press
"There is blockbuster potential in Journey of the Universe… I recommend it with great enthusiasm." – THOMAS LOVEJOY, Conservation Biologist & Co-founder, PBS NATURE
Winner: Emmy Award Best Documentary 2012.
As broadcast nationally on PBS.
Directed by Patsy Northcutt and David Kennard (Carl Sagan's Cosmos)
Join us on a 14.5 billion year expedition that has brought us to this unique crossroad in history.
Evolutionary philosopher Brian Thomas Swimme, and Yale historian of religions Mary Evelyn Tucker have crafted an elegant narrative story of the universe that illuminates and celebrates the profound role humans play in the flourishing of the EARTH.
At its very heart, Journey of the Universe explores cosmic evolution as a profoundly wondrous process that evolves into the now unprecedented opportunity for the world's people to address the daunting ecological and social challenges of our times.
2011 / 1 X 56 HD
HOW TO ORDER:
Public Performance and Digital Site Licenses are available exclusively through Soundview Media Partners. To inquire or to place an order, write to info@soundviewmediapartners.com or choose from the License Options listed below:
For group screening prices, please inquire: info@soundviewmediapartners.com
In-home/personal use copies are available on Amazon: http://amzn.to/XSMHhn.
Also available to stream/download on Amazon: http://amzn.to/2HviMub
ALSO AVAILABLE IS THE 20 PART/10 HOUR JOURNEY OF THE UNIVERSE: CONVERSATIONS EDUCATIONAL SERIES https://soundviewmediapartners.com/journey-of-the-universe-conversations/
Learn more/view the trailer for JOURNEY OF THE UNIVERSE