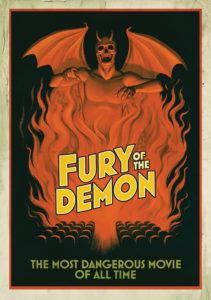 No study of cinema should bypass the critical impact of horror, a history that goes back to the short LA RAGE DU DÉMON (1897).
Fury of the Demon is the documentary investigation that traces violent riots said to be caused by the rare and dangerous French film named LA RAGE DU DÉMON, which was allegedly helmed by French filmmaker Georges Méliès.
The Terror Time wrote "A fascinating film that touches on cinema history, the origins of spiritism in film and the psychological puzzle pieces of mass hysteria."
Through conversations with filmmakers, producers, journalists, historians and psychologists, this documentary slowly uncovers the truth about the most cursed and disturbing movie ever made.
The film FURY OF THE DEMON (originally named La Rage du Demon) was released with Georges Méliès' name listed as the creator, but many think it was actually a forgery crafted by one of Melies' pupils, a gent obsessed with magic and the occult, named Sicarious. Regardless, in 1897 the short screened once and reportedly caused the audience to go absolutely insane.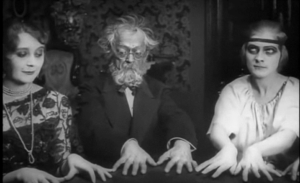 According to horror cinema fan site 13th Floor: "In 1897 France, many people were beginning to play around with the possibilities of film and special effects, but none were more well-known or more prolific than George Melies. Most film fans know Melies from his iconic film A TRIP TO THE MOON (the one where the spaceship lands in the moon's eye). But Melies created over 500 films, the bulk of which were horror and comedy, and most of which are now lost. But in 1897, Melies was still in his prime, making ample shorts and even teaching others do to the same."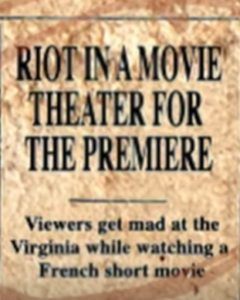 Fast forward to 1939: Tod Browning (the guy who made FREAKS and DRACULA), released a feature called MIRACLES FOR SALE. When the film screened in New York City, LA RAGE DU DÉMON played beforehand. Supposedly, the screening of the short caused the audience to erupt in mass hysteria. People ripped their hair out and fought fellow audience members. It was a bloody, vicious scene. Eventually, a fire broke out, and six people died in the chaos; the documentary even interviews some audience members from the 1939 screening who recall the madness firsthand.
An OFFICIAL SELECTION at the Fantasia Film Festival, Fury of the Demon boasts a 100% rating on Rotten Tomatoes and features producer/ director Christophe Gans (Silent Hill, Brotherhood of the Wolf, Beauty and the Beast), producer, writer and Rue Morgue Magazine editor Dave Alexander (Blood, Sweat and Terrors, Why Horror?, Minutes Past Midnight, Galaxy of Horrors), and producer/ director Alexandre Aja (Piranha 3D, Crawl, Haute Tension, The Hills Have Eyes).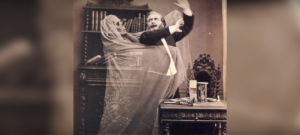 Dread Central stated it "documents a time when movie magic was much more frightening and otherworldly. It's a time worth traveling back to."
SciFi Now said "As much a celebration as it is a sleight of hand, and an engrossing and entertaining one at that."
2016 / 60 minutes / Color and Black and White / HD / English and French with English subtitles / A film by Fabien Delage / Produced by Christophe Battarel, Jordane Oudin.
HOW TO ORDER:
Public Performance and Digital Site Licenses are available through Soundview Media Partners. To inquire or to place an order, write to info@soundviewmediapartners.com or simply choose from the options below:
For group screening prices, please inquire.
Personal use copies of the DVD are available on Amazon: https://amzn.to/322Hv2l
WATCH THE TRAILER