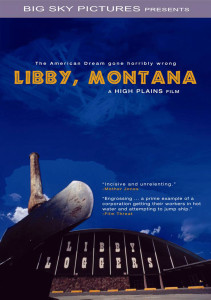 Broadcast on PBS / Nominated for an National Emmy. 
Sometimes the American Dream goes totally wrong… In 2005, seven Grace executives were criminally indicted for knowingly endangering the residents of Libby. Montana
A small company town in northwestern Montana is beset by the worst case of a widespread toxic contaminant in U.S. history. The U.S. government determined that nearly one quarter of the residents have some form of asbestos-related lung abnormality. Libby, Montana is the story of the American dream gone horribly wrong.
"Libby, Montana is also the story of an ideal betrayed in a way that crosses political lines and raises alarming questions about the role of corporate power in American politics and the environmental pollution that extracts its highest costs from ordinary citizens. In Libby, 70 years of strip-mining an ore called "vermiculite" and marketed as the wonder material "Zonolite" exposed workers, their families and thousands of residents to a toxic form of asbestos, creating what the Environmental Protection Agency (EPA) has called the worst case of industrial poisoning of a whole community in American history." – POV
"Many critics have praised the 'objectivity' of the filmmakers, but at its root is the recognition that LIBBY, MONTANA isn't a red-state or blue-state story. It is a story about American democracy and American capitalism, and the battle that must constantly be waged to keep the latter from consuming the former." – San Antonio Current
"Libby is a hardworking, blue-collar community that personifies the American Dream, but the story we had to tell was about the dream gone horribly wrong. Industrialists, politicians, workers and ordinary citizens all play a role in this American tragedy." – Doug Hawes-Davis, Co-director, Libby, Montana
"Incisive and unrelenting." – Mother Jones
"Though it tracks a horrific and extended saga, Libby, Montana maintains a sense of intimacy…with focus on diurnal details and conceptual ambiguities, probing questions rather than reductionist oppositions of good and evil."  PopMatters.com
"The compelling story of fatal repercussions that befell the town of Libby, Montana years after the local mines closed down. A beautifully made documentary." Missouri Film Alliance
"Heartbreaking, but also a fine piece of journalistic film-making. It [the film] has the rare quality of being, at once a superb educational piece, a deeply moving story filled with truth and pathos, and a riveting cinematic event." Don Snow, Professor of Environmental Humanities, Whitman College
"A fine example of advocacy journalism, this is recommended." – Video Librarian
116 minutes on 1 disc
HOW TO ORDER:
Public Performance and Digital Site Licenses are available through Soundview Media Partners. To inquire or to place an order, write to info@soundviewmediapartners.com or choose from the License Options below:
For group screening prices, please inquire.
In-home/personal use copies are available on Amazon: http://amzn.to/26of24J
WATCH THE TRAILER