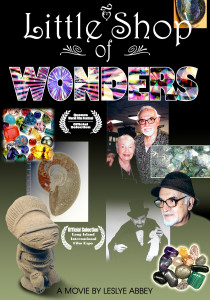 A farewell to one unique Mom & Pop neighborhood store and the local characters.
Murray (Mark) Morgan was born in New York City in 1925. He grew up in the Bronx and after school worked for fashion photographer Harold Stein. In 1949, Mark and his family moved Long Island, New York.
Mark opened Morgan Studio a thriving portrait, wedding and commercial photography business. During that time, Mark also performed magic shows, séances, mind readings and hypnotism demonstrations. Later Mark hosted Nightbeat, an adult open mike radio program. It was at this time that Mark met Rosalyn Anker, a theatrical talent agent who brought clients for his show.
People came from all over to The Little Shop of Wonders to view their collections, as well as to seek their advice about gemstones and healing.
Official Selection: Long Island International Film Festival
ORDER ON AMAZON http://amzn.to/1UpF0kW
1×17