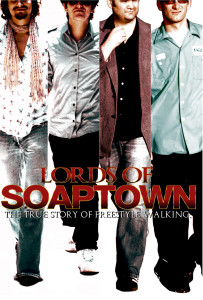 The insane true story of the world's strangest sport – Freestyle Walking – and the business that resulted.
Lords of Soaptown is the true story of four kids from the Chicago suburbs having their sport censored and banned in the halls of their school. It resonated across the country, and then spread from Chicago to the four corners of the globe.
Filmmaker Jason Klamm catches up with the men these kids became, uncovering not only the truth behind the sport, but the truth behind the multi-million-dollar shoe line that the Wheaton natives claim to have invented.
Tom Mottier, Brandon Kennedy, Mike Rempert and Brian White created the sport that took part of the country sort of by storm in 1996. On the success of the Freestyle Walking piece on MTV News Unfiltered, the 15-year-olds from Wheaton, Illinois saw their first taste of fame, and saw their pastime start to catch on. MTV even recruited them to shoot new footage to help promote "Unfiltered" and capitalize on the short video's success. It went viral before the term existed.
Features interviews with Charlie Todd (Improv Everywhere), Bob Wiltfong (The Daily Show), Dave Holmes (MTV), Corey Moss (MTV), Matt Crocco (MTV's "Sifl & Olly"), Dave Sheridan (MTV's "Buzzkill") and more.
1 hr, 38 minutes on 1 disc / 2011
HOW TO ORDER:
Public Performance and Digital Site Licenses are available through Soundview Media Partners. To inquire or to place an order, write to info@soundviewmediapartners.com or simply choose from the options below:
For group screening prices, please inquire.
In-home/personal use copies are available on Amazon: http://amzn.to/2eZW52C
WATCH THE TRAILER