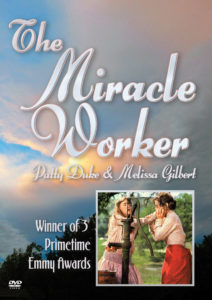 The winner of three Prime Time Emmy Awards, The Miracle Worker stars Melissa Gilbert (Little House of the Prairie) and Academy Award Winner Patty Duke (Valley of the Dolls). It is based on the 1959 play (of the same title) by William Gibson and comes from Award Winning Executive Producer Sandy Gallin (Music of the Heart, Fly Away Home). It was directed by Paul Aaron (Maxie, The Octagon) .
This extraordinarily classic 1979 film tells the true story of Helen Keller and Annie Sullivan, in their gripping battle to overcome impossible obstacles and the struggle to communicate. As a young girl, Helen Keller is stricken with scarlet fever. The illness leaves her blind, mute, and deaf. Sealed off from the world, Helen cannot communicate with anyone, nor anyone with her. Often frustrated and desperate, Helen flies into uncontrollable rages and tantrums that terrify her hopeless family. The gifted teacher Annie Sullivan is summoned by the family to help the girl understand the world from which she is isolated, freeing Helen Keller from her internal prison forever.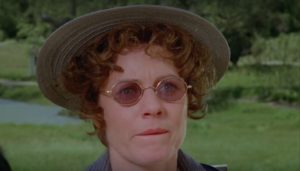 "4 STARS: Just as good as the original version from 1962. The casting coup is that Patty Duke played Helen Keller in the original and won an Oscar by the way, is Annie Sullivan in this version. Melissa Gilbert takes on the role of Helen." – Fixter
"The Miracle Worker has been made in so many different forms, from stage to screen, that it's easy to forget its tender power to move audiences. This television production comes from an era when the networks would spend real money producing movies for broadcast. It's a high-quality effort with a strong cast and excellent production values. I'm sure that NBC was thinking Emmy awards when they put this together. The result is a heart-warming, inspiring movie that captures human tenacity and ingenuity in its infinite capacity to overcome personal limitations." – DoBlu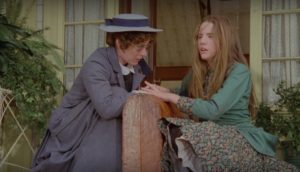 "Paul Aaron's 'The Miracle Worker' gets a lot right when adapting William Gibson's play, but it has a hard time in finding a balance between theatricality and rigidness. This actually works to its benefit as a tool to showcase the dynamic between Helen Keller and Annie Sullivan in a theater-like space, both of which are performed well by Patty Duke and Melissa Gilbert. Still, it's a pleasantly melodramatic rendering of a naturally compelling story, one of determination and struggle that can be very influential if taken in the right context. For educators, it's easily recommended". – DVD Talk
The physical media version is available as either DVD or Bluray! Digital delivery is in HD.
1979 / 98 minutes / a film by Paul Aaron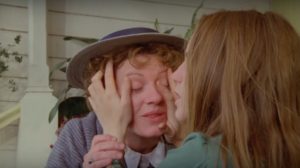 HOW TO ORDER:
Public Performance and Digital Site Licenses are available through Soundview Media Partners. To inquire or to place an order, write to info@soundviewmediapartners.com or simply choose from the options below:
For group screening prices, please inquire.
In-home/personal use copies are available on Amazon: Bluray (https://amzn.to/2T6AWHh) or DVD (https://amzn.to/2TDfu1L)
WATCH THE TRAILER